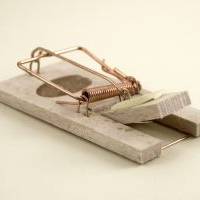 Egg has upped the minimum cash withdrawal fee on its credit card from £3 to £5 to make it the most expensive rate on the market. This highlights once again why you should never take cash out on a credit card.
It will implement the new charge from 28 May, but users could pay even more because the £5 figure is only a minimum. If you take out more than £167, you'll be charged 3% of the balance.
Most cash withdrawal fees on other cards are around £3. On Egg and other cards, you also typically pay a higher interest rate to take out cash than on purchases. Egg charges up to 25.9% on cash.
In addition, the interest starts accumulating from the day you withdraw the cash, until paid off. With a purchase, you usually get an interest-free period.
If you took out £100 cash on the Egg card and paid it back 30 days later, it would cost you over £7, including interest.
Yet research from price comparison site uSwitch still shows 16% of credit card customers sampled withdraw cash on their credit card around five times a year.
Dan Plant, credit card analyst at MoneySavingExpert.com, says: "The golden rule of credit cards is to never, ever, ever withdraw cash, as the cost of doing so is huge."
The changes do not apply to the Egg Money card, which will still charge a £3 minimum cash withdrawal fee.
Credit card rights overseas
Separately, Citifinancial Europe, which runs the Egg card, has been reprimanded by the Office of Fair Trading for incorrectly stating users of many of its cards did not have full Section 75 protection.
Under Section 75 of the Consumer Credit Act, the credit card issuer is jointly liable with the supplier of the goods if anything goes wrong, meaning you can get your money back from the card company, if necessary. Crucially, since March 2006 this has applied worldwide, no matter where the supplier is based.
Citi stated, up to 1 December 2008, on many of its cards (but not the Egg card), that consumers would not be covered overseas, but it has now made the necessary corrections.
Simon Bailey, from Citi, says: "We apologise to our Citi card customers for any confusion caused. As noted by the OFT, we have, in practice, been honouring any claims we have had from our customers for overseas use of cards.
"In addition, we are now writing to customers to ensure they are aware of their rights."
Anyone who may have been put off making a valid claim since March 2006 should contact Citi immediately.