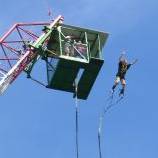 House prices fell in April, and are expected to drop even further, according to The Halifax.
The mortgage lender's latest monthly index revealed property prices dipped by 1.7% during April.
Over the previous year, they have fallen by 17.7%. The average price of a property, according to Halifax, is £154,716. Typical values are now at their lowest level since April 2004.
Fellow lender Nationwide had previously reported a smaller 0.4% drop in April, following a shock 0.9% rise in March.
However, the Nationwide index was the only one of the three indices – the Land Registry index being the other – to have reported any increase for months.
Halifax housing economist Martin Ellis says: "Rising unemployment, low consumer confidence and the reduced availability of credit are all expected to exert downward pressure on the housing market over the next few months. As a result, further house price declines are likely."
Dan Plant, money analyst at MoneySavingExpert.com, says: "Whether falling house prices are good or bad news depends on your circumstances. Anyone needing to remortgage or sell their home could struggle if the equity they hold has diminished.
"However, first time buyers looking to get on the property ladder will pay less for a new home and are likely to need a smaller deposit to bag a decent mortgage rate."