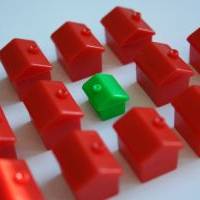 Property prices dropped in April across England and Wales, according to the Land Registry's latest figures.
Its monthly house price index published a fall of 0.3%, compared to March's 0.4% drop.
The annual decrease stands at 16.2% with the average house price now £152,898.
Last week, Nationwide reported a surprise 1.2% rise during May. The Land Registry data is a month behind Nationwide's, yet is seen as more representative as it takes into consideration all property sales.
The Nationwide and Halifax indices just measure their latest lending data. Halifax is yet to publish its figures for May but reported a 1.7% fall for April.
Dan Plant, money analyst at MoneySavingExpert.com, says: "Whether falling house prices are good or bad news depends on your circumstances. Anyone needing to remortgage or sell their home could struggle if the equity they hold has diminished.
"However, first time buyers hoping to get on the property ladder will pay less for a new home and are likely to need a smaller deposit to bag a decent mortgage rate"
This is the 12th consecutive month the Land Registry has reported a decline in house prices. Separate property sales data for February, the latest figure available, saw only 25,592 completed sales compared to 124,566 in August 2007.