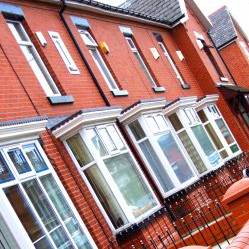 House prices rose slightly in June due to a lack of supply, according to the Nationwide house price index.
Typical values are up 0.9% over the month, making the average property price £156,442, which is 9.3% down compared to this time last year.
To find the your home's approximate value, see our Free house price valuation guide.
This is the second consecutive month that Nationwide has reported an increase in prices, after the 1.2% rise in May.
It is also the first time since December 2007 that typical property values have risen over a three-month period.
Over the last quarter of a year, they are up 0.9%.
Conflicting reports
The news paints a confusing picture for homeowners and first-time buyers. Fellow mortgage lender Halifax's house price index highlighted a rise of 2.6% in May. Its June figures are expected any day.
Yet the official Land Registry index showed a 0.2% drop in May in England and Wales.
The Land Registry should report its June findings in late July as its data lags behind those from mortgage lenders.
Lenders' figures only reflect the price of homes bought by their customers, whereas the Land Registry uses a much larger sample.
Lack of supply unlikely to last
Nationwide chief economist Martin Gahbauer says: "There continues to be a relentless drop in the stock of property available for sale.
"Potential sellers and builders have responded to depressed demand by reducing the supply of property coming onto the market.
"As a result, prices have been able to stabilise even in the face of very low demand.
"There are still many obstacles in the way of a genuine and sustainable price recovery. Abnormally low supply levels are unlikely to last."
Further reading/Key link
Check your property's value: Free house price valuations