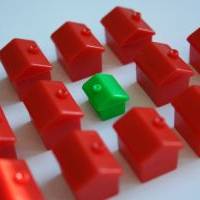 Homeowners and first-time buyers looking for a mortgage have seen a sharp rise in the cost of fixed-rate mortgage deals over recent weeks.
However, there is a glimmer of hope for those on the homeloan hunt as we could soon see imminent falls in the price of fixes if current trends continue.
The reason for the optimism is a sharp fall over recent days in the price lenders pay to borrow the money they then lend to us as fixed-rate mortgages. The rates banks and building societies pay are known as swap rates.
Two-year swaps fell from 2.32% on Wednesday to 2.18% by Friday – their lowest level for a month. There was a similar pattern in three-year and five-year swaps.
As a cautionary note, two-year swaps also fell last Friday to 2.2% from a June high of 2.51%. However, they shot up again early this week.
Fixes to fall?
But if the current trend continues, the message from mortgage brokers is that it could feed through to consumers meaning fixed-rate mortgage rates could soon fall.
Richard Morea, from fee-free broker London & Country (L&C), says: "No-one knows what will happen to swaps but they have fallen dramatically. If you're looking for a fixed-rate mortgage it might be worth waiting a few days as rates could drop.
"Alternatively, you could secure a deal now and add any fee to the loan, so you've paid nothing up front. Then you could pull out if you find a better deal."
He says most borrowers are still opting for fixed-rate mortgages, despite lower tracker rates, because the Bank of England base rate is still at an all-time low – currently 0.5%.
The theory many are adopting is that tracker rates can only go up when base rate rises, whereas fixes remain constant for their duration.
No crystal ball
Whether you plump for a fix or variable rate is a gamble as no-one has a crystal ball. That's why it's important to seek independent advice if you're unsure.
The Cheap mortgage finding guide can you choose the right broker and the right mortgage.
As an example of current deals, Leek United Building Society offers a 3.39% rate for two years with a £1,495 fee, though you can only borrow up to 75% of your home's value. On a £150,000 repayment mortgage with the fee paid up-front, that costs £19,303 over the term.
A decent five-year fix, according to L&C, for those borrowing up to 75% of their home's value, is Melton Mowbray BS's 4.89% rate with a £999 fee. Using the same scenario as above, it costs £53,019 over the term.
If you want a tracker, First Direct offers base rate plus 2.48% (currently 2.98%) for the life of the loan, with a £1,499 fee. Though the rate cannot go above 4.99% until August 2012.
On that deal, you're automatically put on an interest-only deal but you can make overpayments.
Assuming you paid the same as someone on a repayment mortgage, it will cost £18,539 over two years. That assumes a constant base rate and the same scenario as above. Over five years, it costs £44,099.
Savers to suffer?
If swap rates continue to fall, fixed savings rates could be hit.
Martin Lewis, MoneySavingExpert.com creator, says: "This looks like good news for those who need a mortgage. Yet for every winner, there's a loser.
"We've seen fixed savings rates rocket recently with the golden 5% mark hit. This trend is unlikely to continue if swap rates fall further.
"If you want to fix savings at a high rate it may be worth doing so soon."
Further reading/Key links
Get the best deal: Cheap mortgage finding
Fix your savings: Savings guide