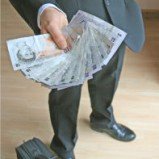 Banks are raising easy access savings rates. Though they are still low historically, the best accounts pay over six times more than the 0.5% base rate.
Sainsbury's has today upped the rate on its Internet Saver account from 2.6% before tax to 2.8%.
You get the rate on £1,000 balances and above but accounts must be opened by 31 July. You can make a maximum three withdrawals a year or the rate plummets by 2.05 percentage points.
While the deal is good, it can be beaten.
The Telephone Extra account from Birmingham Midshires, launched over recent days, pays 3.15% before tax an any amount, though that includes a 2.65 percentage point bonus that lasts a year.
The top rates
Ulster Bank's e-Savings Plus account pays the top easy access rate, at 3.21% before tax, on balances over £10,000. That includes a 0.5 percentage point bonus for six months, so it's best for the short-term.
If you make a withdrawal during the first six months. you'll only earn 0.5% during the month of withdrawal. After six months, you'll earn nothing for that month.
The top clean account – with no bonus and no catches – is the Intelligent Finance iSaver, paying 2.85% before tax.
Regular savings rates down
While easy access rates are rising, it's bad news for those looking for a regular savings account. These are accounts where you pay a set amount each month in return for a fixed rate, usually for a year.
Barclays has today dropped the rate on its top-paying account for new customers from 6% for a year before tax to 4.25%, though it is still our top-pick.
You can save up to £250 a month, for up to 12 months, though if you withdraw any cash your rate for that month drops to 3.03%. Existing customers will maintain their rate.
Savings safety
As with any UK-registered savings account, only the first £50,000 per person, per financial institution is protected if your bank goes bust.
Further reading/Key Links
Top place to stash your cash: Best savings accounts
Also read: Regular Savings