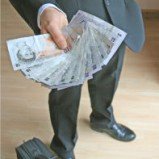 Savers can lock-in an interest rate of 5% for up to five years and still have some access to their money.
But those who are keen must hurry as the account in question, the Newcastle Building Society five-year bond, will be pulled on Wednesday.
The account allows withdrawals with 90 days' notice but it is not suitable for everyone.
With the top rates, which are often fixed, you usually have no access to your money for between one and five years, depending on the length of the fix.
That means you'll be stuck if you suddenly need the cash or want to move your money to a better account if interest rates rise.
The Newcastle account
The bond pays a fixed 5% interest before tax on balances over £5,000 for five years.
Important note (11am, 14 July): Unfortunately, Newcastle Building Society gave us incorrect information when this article first appeared yesterday (it is now correct).
The society told us that no interest would be earned during the 90-day notice period but this is incorrect. Interest will be earned during that period.
A Newcastle BS spokesman says: "We apologise for any inconvenience caused."
Who should consider applying?
As long as you won't need access to your cash within 90 days it's worth applying.
Who should not apply
You won't get the rate if you have less than £5,000 to save.
The account is also unsuitable for those who may need access to their money at short notice.
Other top accounts
The best alternative if you want access to your cash, for those with at least £10,000, is Ulster Bank's e-Savings Plus account. It pays 3.21% before tax, including a 0.5 percentage point bonus for six months.
If you make a withdrawal the rate drops for that calendar month.
If you've less than £10,000 or don't like the restrictions of the Ulster account, Alliance & Leicester and Birmingham Midshires both pay 3.15% before tax. However, both come with a bonus lasting a year.
Full information on those accounts and the others available are in the Best Savings Accounts guide.
Stay safe
As with any UK-registered savings account, only the first £50,000 per person, per financial institution is protected if your bank goes bust.
Further reading/Key links
Best rates: Top savings accounts
Stay safe: Savings safety guide