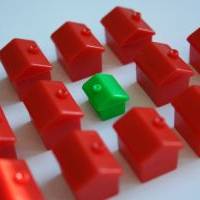 Property prices dropped by 0.5% during June, according to the latest Halifax house price index.
This is in stark contrast with the most recent Nationwide index which showed a 0.9 increase in typical values last month.
Halifax says its figures show the rate of decline is slowing.
The mortgage lender reported the smallest fall over a three-month period since early 2008, of 1.9% over the previous quarter.
Over the past year, the Halifax index shows a 15% drop in prices, making the typical cost of a property £157,713.
Halifax housing economist Martin Ellis says: "The outlook for the UK economy remains uncertain with unemployment set to continue rising for sometime.
"Overall, we expect to see a continuing mixed pattern of monthly house price rises and falls over the remainder of 2009."
Halifax and Nationwide both reported increases in May property prices but the offical Land Registry index showed a small decline.
The reason for the differences is that Halifax and Nationwide only compare mortgages they have sold. The Land Registry uses a much wider sample.
Further reading/Key links
Value your property: Free valuation tool
Bet the best homeloan: Cheap mortgage finding