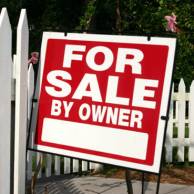 Sellers have dropped typical asking prices over the past month, according to property listing website Rightmove.
It says the average price being demanded for a house or flat is down by £5,100 (2.2%) and now stands at £222,762. A month ago, it reported a 0.6% rise (see the Free House Price Valuation guide).
Rightmove says the fall is a result of the normal lull in summer activity, adding that 75% of home movers surveyed do not expect prices to fall over the next year.
Another indicator of future house price trends shows property values could yet fall back again.
The discount applied to auctioned properties rose in July, according to reports.
Rightmove's figures, however, are not as comprehensive as the House Price Indices published monthly by the Land Registry and by mortgage lenders Halifax and Nationwide.
The latter trio base their information on property sales or mortgages approved, whereas Rightmove's analysis of asking prices merely reflects sellers' expectations.
The most-recent Halifax, Land Registry and Nationwide indices have all reported rises in typical property values.
Further reading/Key links
Free valuation guide: www.moneysavingexpert.com/valuation
Cheap mortgage finding: www.moneysavingexpert.com/mortgageadvice