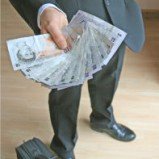 The cost of living continued to fall for some in the year to July but annual inflation figures remained steady during the month, according to official figures released today.
The news could also see rails prices fall next year given they are based on the previous July's inflation figures.
The Retail Prices Index (RPI), which measures inflation over the previous 12 months, including mortgage costs, rose to minus 1.4% from minus 1.6% in June, according to the Office for National Statistics (ONS).
This figure is negative largely because mortgage rates for those on variable homeloan deals have fallen over the past year due to the plummeting Bank of England base rate (see the Cheap Mortgage Finding guide).
The headline Consumer Prices Index (CPI) remained at 1.8%, below the Bank of England's 2% target.
The figures will come as a surprise to many economists who predicted a fall in inflation.
Rail prices to fall?
However, the news could spell good news for commuters because July's RPI figure is used to calculate many rail tickets, including season tickets (see the Cheap Train Tickets guide).
Rail firms use a formula of RPI plus 1% to determine how much to increase some prices by in the following January. In theory, prices should therefore fall by 0.4%.
Savings impact
With the cost of living falling for some, this is a boost for savers. Savings rates are lower than a year ago but are nevertheless on the rise (see the Top Savings guide).
Yet deflation means you're earning even more in real terms because, in theory, you're spending less.
Additional information provided by PA News
Further reading/Key links
Top savings accounts: www.moneysavingexpert.com/topsavings
Cheap rail fares: www.moneysavingexpert.com/trains