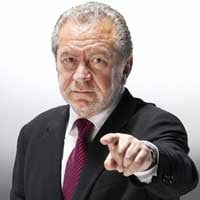 Sir Alan Sugar is the man most Brits would like to see as Chancellor, according to an opinion poll out today. The second choice is this site's creator Martin Lewis.
Sugar (pictured, right), star of The Apprentice, polled 31% of the vote commissioned by Opinium Research. Martin's share of the vote was 19%.
Next came Liberal Democrat Shadow Chancellor Vince Cable, then Prime Minister Gordon Brown. Alistair Darling, the man in the hot-seat, only came 6th.
Money and business-related TV personalities scored well. Though they might do a decent job (well, I would say that, Martin's my boss!).
Whether this shows we're a media-focused nation, or we've a lack of trust in politicians, is open to debate.
In an identical poll among financial advisers, as reported by Money Marketing newspaper, Vince Cable came top with 39% of the vote.
Who the public want as Chancellor

Sir Alan Sugar
31%
Martin Lewis
19%
Vince Cable
16%
Gordon Brown
11%
George Osborne
8%
Alistair Darling
7%
Mervyn King
4%
Robert Peston
4%
Martin says: "Moving into Number 11 is obviously a good MoneySaving technique as you get a free house in a prime location. Sadly, though, I don't think they'd let me eBay it.
"Having said that, to be in such esteemed company is always nice; though for the moment, I think running MoneySavingExpert.com is more than enough work for me. So I'm very happy to leave the path open for Sir Alan.
"In the real world, though, it's interesting to note the strength of support for Vince Cable (16%).
"It's a shame our adversarial political system doesn't allow a way for people with particular strengths or talents to have a role in Government, regardless of their party."
Further reading/Key links
Sir Alan Sugar: Biog
Martin's biog: www.moneysavingexpert.com/biography