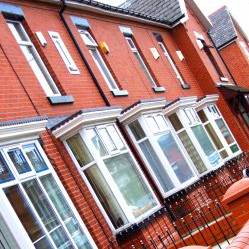 Halifax has reported a 0.8% rise in typical property values during August. It says average prices are now virtually the same as the end of last year.
Over the last three months, compared to the previous quarter-year, average prices jumped by 1.7%, (see the Free House Price Valuation guide to help value your home). Over the past year, prices are now down 10.1%.
Within 2009, prices are static. The average property price is now £160,973, compared to £160,861 in December 2008.
This is the third month out of the past four that Halifax has reported a jump in house prices (see the MSE News 'House price crash is over' story). This follows months of falls during the crash many believe is now over.
Once again, experts partly attribute the rise to the low supply of homes.
Halifax housing economist Martin Ellis says: "Demand for housing has increased since the start of the year due to better affordability and low interest rates. This, together with low levels of property available for sale, has boosted house prices over the last few months.
"Overall, house prices nationally are very similar to the level at the end of last year."
Fellow lender Nationwide reported a 1.6% rise in typical values during August and the Land Registry indicated prices were up 1.7% in July (see the Nationwide house price rise and Land Registry hike MSE News stories).
Outlook for house prices
MoneySavers think the house price crash is over, according to a poll of this site's users last week.
Of the 9000+ readers surveyed, 71% reckon prices will either rise or hold still over the next year. On average, a 0.36% annual rise is expected (see the MSE News House price rises predicted story).
National Association of Estate Agents president Gary Smith says: "The housing market has finally bottomed out and indications are that we are hopefully moving to a point where the gradual recovery in prices witnessed this year will be sustained."
While estate agents and many property owners will celebrate price rises, it is not good news for first-time buyers or those looking to move to a larger home.
Nationwide says the price increases could end when interest rates finally rise. Currently, most commentators attribute the price hikes to a lack of housing supply.
The lender says many homeowners are better able to manage debts in the current low interest rate environment.
But when borrowing rates rocket from their 0.5% low, some may be forced to sell their homes therefore increasing housing supply, which could force prices back down.
Further reading/Key links
Valuation loophole: Free house price valuation
Cut homeloan debt: Cheap Mortgage Finding
Latest house prices: Nationwide, Land Registry, Halifax
MSE News: (28.08.08) Land Registry hike
MSE News: (27.08.09) Nationwide house price rise
MSE News: (30.07.09) 'House price crash is over'
MSE News: (04.09.09) House price rises predicted