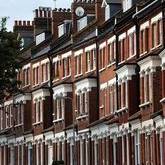 House prices dipped by 0.1% during August, the first monthly fall for four months, figures showed today.
The drop, which followed a strong 1.8% rise in July, left the average home in England and Wales costing £155,968, according to the Land Registry (see the Free House Price Valuation guide to help value your home).
But the annual rate at which prices are falling continued to slow, easing to 9.4%, the lowest figure since September last year and down from a high of 16.3% in February.
Values still rose by 0.8% in London and the West Midlands. Yet they fell by 2.1% in the North West.
Mortgage lender Halifax reported a 0.8% rise in typical property values during August. It says average prices are now virtually the same as the end of last year.
Fellow lender Nationwide said values said typical values jumped 1.6% in August (see the Nationwide and Halifax house prices rises MSE News story).
The Land Registry data lags behind both lenders, yet is seen as more representative as it takes into consideration all property sales.
Nationwide and Halifax just measure their latest lending data.
Outlook for prices
The Land Registry says its figures indicate the market is now "flat".
David Smith, senior partner at property consultancy Carter Jonas, says: "There's a feeling in the industry that many potential sellers will look back at the current time as a missed opportunity.
"When interest rates rise there is a good chance prices will fall back again as those borrowers who are just about surviving are forced to sell up."
Experts have generally attributed rising prices over the past few months to a lack of supply.
Further reading/Key links
Valuation loophole: Free house price valuation
Cut homeloan debt: Cheap Mortgage Finding
Latest house prices: Nationwide, Land Registry, Halifax