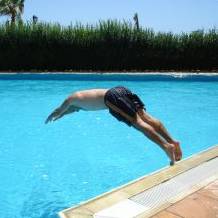 Thousands of savers are being dumped onto miserly rates as their sky-high fixed deals come to an end.
In particular, due to the stampede to grab a 7%-plus one-year deal last October, the coming weeks will see a deluge of consumers needing to urgently switch.
Some savers who let their accounts lapse onto their provider's default rate on maturity will see their pre-tax earnings plummet from 7.21% to just 0.1% (see the Top Savings guide).
On a £10,000 balance, a basic rate taxpayer would see a £570 drop in the annual interest earned, or a whopping £2,850 cut on a £50,000 deposit.
Many providers move fixed rate savers onto some of their poorest-paying accounts when their term is up, if you fail to act.
Therefore, it is vital to check exactly when your fixed deal ends and scour the market for the top-paying alternative (see the Top Savings and Top Fixed Savings guides).
Blame it on the Base Rate
Returns were so high this time last year because Bank of England Base Rate stood at 5%, compared to an historic low of 0.5% now.
Many of the top fixed-rate deals lasted a year and the rush to grab one began because Base Rate started its dive last October.
On 8 October 2008, Base Rate fell by 0.5 percentage points to 4.5%, which meant some providers pulled their top rates.
For example, the last date you could have deposited cash in The AA's 7.21%-paying account, the record-breaking deal of recent times, was 24 October 2008.
On 6 November, Base Rate crashed by a further 1.5 percentage points, soon after which there were no 7%-plus deals available.
That day, MoneySavingExpert.com sent an urgent tip note urging savers to bag the last-remaining deals at that level (find out how to get the free weekly email).
This site listed the following providers among the top payers in autumn last year.
The table below shows what you'll earn, if you took one of these deals, when your respective one-year fix is up, assuming you do nothing.
Fixed deals – what they revert to

Fixed rate (pre-tax)
Annual return/£1,000

(i)

Rate on maturity (pre-tax)
Annual return/£1,000

(i), (ii)

Anglo Irish
7.05%
£56
2.25%
£18
Birmingham Midshires
6.6%
£53
0.5%
£4
Firstsave
7.1%
£57
0.75%
£6
ICICI
7.2%
£58
1.7%
£14
Kaupthing/ING

(iii)

7.15%

£57
0.8%
£6
The AA
7.21%
£58
0.1%
£1

(i) After basic rate tax deducted, (ii) Assumes constant rate, (iii) ING Direct bought Kaupthing UK last October after the bank collapsed. Savers would have signed-up with Kaupthing
Top current rates
Fixed rates offer the best returns but your money is locked away for the term, so consider that before applying (full details in the Top Savings guide).
Best fixed rates. The top one-year fix is at 3.7% from Bank of Cyprus, the best two-year fix is at 4.3% from Chelsea BS, while the best three-year deal comes from ICICI at 4.7%. Note that Bank of Cyprus savings are not UK-protected.
Best variable, easy access deal. Citibank offers 3.3%, including a 2.25 percentage points bonus.
Stay safe. You're protected up to £50,000 per person, per financial institution. So if you're lucky enough to have more than that, spread your cash (see the Safe Savings guide).
Further reading/Key links
Best rates: Top Savings, Top Fixed Savings
Stay safe: Safe Savings