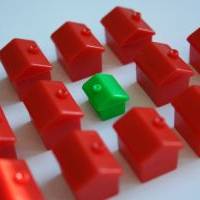 House prices rose by 0.9% in September in England and Wales, according to official Land Registry figures.
This compares to a 0.1% dip in August. The annual drop of 5.6 per cent takes the average property price to £158,377 (see the Free House Price Valuation guide).
London experienced the greatest monthly price rise with a 1.3% uplift. The average property price in the capital is now £314,954.
The index from mortgage lender Halifax revealed earlier this month prices rose by 1.6% during September, while fellow lender Nationwide's index showed a 0.9% increase.
The Land Registry data lags behind both lenders, yet is seen as more representative as it takes into consideration all property sales. Nationwide and Halifax just measure their latest lending data.
Further reading/Key links
Valuation loophole: Free house price valuation
Cut homeloan debt: Cheap Mortgage Finding
Latest house prices: Nationwide, Land Registry, Halifax