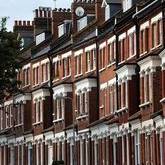 House prices rose by 0.4% in October, according to mortgage lender Nationwide's index.
This compares to a larger 0.9% rise in September and 1.6% climb in August, and represents an easing in the rate of property value inflation.
Compared to this time last year, prices are up by 2% making the average property price £162,038 (see the Free House Price Valuation guide).
The index from mortgage lender Halifax revealed earlier this month prices rose by 1.6% during September, while the official Land Registry figures, released this week, revealed a 0.9% rise during the same month.
The Land Registry data lags behind both lenders, yet is seen as more representative as it takes into consideration all property sales. Nationwide and Halifax just measure their latest lending data.
Martin Gahbauer, Nationwide chief economist, says: "The strong upward momentum in property values seen over the summer is showing some signs of moderating as we head into the autumn months.
"Although too early to tell for sure, it may also reflect a more natural level of stock available for sale coming to the market, alleviating some of the extreme shortages of property on the market seen during most of this year."
Further reading/Key links
Valuation loophole: Free house price valuation
Cut homeloan debt: Cheap Mortgage Finding
Latest house prices: Nationwide, Land Registry, Halifax