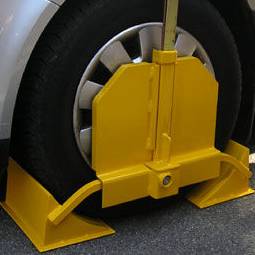 The Government signalled a crackdown on cowboy wheel clampers today.
In the Queen's Speech, it was announced legislation would be introduced so there is a compulsory licensing scheme for all wheel clamping businesses.
Clamping on private land has been outlawed in Scotland since 1992, but has carried on in England and Wales (see the Private Parking Tickets guide).
The new legislation will also limit the size of the clamping penalties that can be imposed, regulate towing-away practices and put in place an effective and fair appeals process.
The move has been welcomed by motoring organisations.
RAC Foundation director Professor Stephen Glaister says: "Motorists everywhere will be relieved to finally hear of the Government's commitment to tackle the menace of cowboy clampers.
"It seems ministers have at last listened to the hundreds of thousands of drivers who have been fleeced by rogue operators.
"It is critical that the Bill be published quickly and put before Parliament before a general election, so public confidence in this essentially lawless area can be restored."
AA President Edmund King says: "This is a step in the right direction. But will there be an independent appeal process and what level of fines will they impose?
"This is really the last chance to get this problem sorted out. If this fails, clamping on private land should be outlawed as it is in Scotland."
Further reading/key links
Fight back: Private parking, Parking appeals