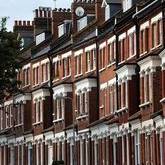 House prices increased for the fourth month in a row during October, rising by 1.2%, figures showed today.
The average cost of a UK home is now 7.1% or £11,000 higher than when house prices hit their low point in April, according to Halifax (see the Free House Price Valuation guide).
But the mortgage lender says the recent run of strong price rises could be coming to an end as increasing numbers of people put their home up for sale.
House prices have been pushed up in recent months due to a mismatch between supply and demand as buyers returned to the market more rapidly than sellers.
Martin Ellis, Halifax housing economist, says: "There are some indications more people are deciding to put their homes on the market, encouraged by the recent improvement in market conditions.
"A continuation of this trend could help improve the balance between supply and demand, curbing the strength of the stimulus to house prices resulting from the current imbalance."
There are also signs the rate at which potential new buyers are registering with estate agents is beginning to slow as property prices rise.
The latest increase in house prices led to a further reduction in the annual rate at which prices are falling.
Prices were 4.7% lower during the three months to the end of October, compared with the same period of the previous year, the smallest annual drop since May 2008.
The are down from an annual decline of 7.4% in September and 17.7% in April.
The average home now costs £165,528, 2.9% more than at the end of last year.
Nationwide last week said prices had risen for the sixth month in a row during October, although at 0.4%, the monthly rate of gain was slowing.
Howard Archer, chief UK and European economist at IHS Global Insight, says: "Despite the further significant rise in house prices, we remain highly doubtful that the house price rally seen since early 2009 can be sustained for much longer.
"Consequently, while house prices may well rise further in the near term from their early 2009 lows, we suspect they will be prone to significant relapses further out.
"Indeed, we believe house prices will be at least 5% lower at the end of 2010 compared to now, and would not be surprised if the slippage is greater still."
Further reading/Key links
Valuation loophole: Free house price valuation
Cut homeloan debt: Cheap Mortgage Finding
Latest house prices: Nationwide, Land Registry, Halifax