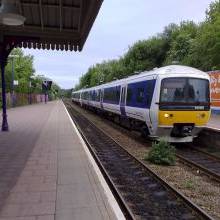 Rail fares will rise in January for the majority of passengers and by an overall average of 1.1%, it was announced today.
The Association of Train Operating Companies (Atoc) said the annual increase was the lowest since rail privatisation in the mid-1990s (see the Cheap Train Tickets guide).
But with regulated fares (which include season tickets) going down by 0.4% in January, unregulated fares (including cheap day returns) will be rising much higher, with rail unions fearing hikes of 10% on some tickets.
Regulated fares make up around 40% of all fares and will be going down this year as they are capped at RPI inflation plus 1%, based on the July inflation rate which was minus 1.4%.
Atoc normally gives separate figures for the regulated and unregulated increases.
No line-specific prices
But today the association would not say what the average unregulated fare increase would be, merely lumping the two figures together to make the 1.1% rise.
Atoc chief executive Michael Roberts says: "Not only is January's average fare rise the lowest since privatisation, but it will come in well below the rate of inflation, meaning a real-term cut in prices for many passengers.
"We should keep a sense of proportion about what passengers pay. How many people would guess the average price paid for a single train journey comes in at around £5 and that the vast majority of people travel on some form of discounted travel?
"Record performance, better services and value-for-money fares have contributed to the highest number of passengers travelling by rail for 60 years.
"The January fare change means that rail travel continues to be good value for money when compared with cars and planes."
Bob Crow, general secretary of the Rail Maritime and Transport union, says: "No matter how the train operators spin these figures, the travelling public know the privatisation of the railways is nothing more than a taxpayer-sponsored rip-off that hits them in the pocket while delivering an inferior service.
"Buried in amongst the spin and gloss from the rail franchise companies we know that there will be some massive fare hikes on separate lines and specific services that will clobber passengers.
"These train companies are soaking up hundreds of millions in public subsidy and are now planning to soak us a second time around with these fares increases.
"All fares should be frozen but in reality they should be cut to reflect the current negative rate of inflation."
'Steep rises'
Atoc adds that the average cost of a train journey would rise from £5.05 to £5.11 from January.
But Anthony Smith, chief executive of rail customer watchdog Passenger Focus, says the average figure published today would "mask steep rises on individual routes".
Mr Smith goes on: "After years of punishing, above-inflation fare rises, some passengers will see a little light in the new year. The formula that sets the limits of regulated fares will finally work in passengers' favour.
"Particularly welcome is the fact that, following pressure from Passenger Focus, the Government has limited the amount by which train companies could raise individual regulated fares. We hope the Government will continue this policy in future years.
"However, there is a sting in the tail. Many unregulated fares will continue to soar above inflation as the average figures published today will mask steep rises on individual routes.
"We call upon the industry to be clear about which fares are going up and to publish average increases for unregulated fares for each train operating company.
"We are also concerned some train operators will tinker with off-peak ticket restrictions, forcing passengers into buying more expensive tickets."
Further reading/Key links
Cut travel costs : Cheap train tickets, Cheap train & Coach travel