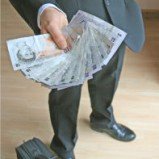 Tens of thousands of homeowners with mortgages held by two Government-run banks will be able to switch lender without the usual four-figure exit penalties.
All Bradford & Bingley (B&B) customers will be able to switch without an early repayment charge (ERC) from February (see the Remortgage guide).
The bank says 84,000 of its 360,000 mortgage holders could benefit from the amnesty (see the Cheap Mortgage Finding guide).
Northern Rock will refund ERCs for switchers who are currently part of its Northern Rock Asset Management (NRAM) arm – the 'bad' half of the bank following this month's split – where the mortgage allows them to borrow additional funds.
As NRAM cannot lend further cash, it will refund charges where you can prove you have switched and borrowed additional funds elsewhere.
NRAM has 450,000 borrowers but only a small percentage will be eligible for the money back, though that could still represent tens of thousands.
Thousands waived
Most lenders charge an ERC if you switch before the end of a discount period. Most charge a typical maximum of 5% of your mortgage balance (£7,500 on a typical £150,000 loan), though some fees are even higher.
You'll also often need to pay a mortgage exit fee of between £100 and £200, regardless whether an ERC is charged.
A B&B spokeswoman says: "We want to reduce the size of our mortgage book so this may encourage people to move."
B&B's mortgage arm is still Government-owned even though Santander now owns its savings business.
A Northern Rock spokesman says: "We will consider refunds on a case-by-case basis but customers will have to prove they moved to borrow more money."
B&B ran a similar initiative last year, while some former sub-prime lenders, who sold loans to those with poor credit histories, agreed to reduce debt by up to £25,000 in some cases in 2009 to encourage borrowers to leave (See the Lenders slashing debt MSE News story).
Lenders hit hard by high numbers of borrowers in arrears prefer to have as few customers as possible on their books to reduce the risk of defaults.
Further reading/Key links
Mortgage cost-cutting guides: The Remortgage guide, Mortgage haggling, Cheap mortgage finding, Ditch my fix?