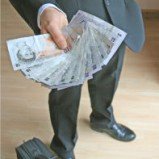 Major mortgage lenders are offering to knock thousands of pounds off borrowers' homeloans if they move their debt elsewhere.
One MoneySaver got £25,000 of debt wiped off just by responding to a letter. He originally received a £22,000 offer but haggled and yesterday got a further £3,000 knocked off.
The institutions offering these huge windfalls have all ceased providing homeloans. They are either former sub-prime providers, who lent to those with patchy credit histories or who could not prove their income, or ex-lenders that mainly sold buy-to-let (BTL) loans.
Advantage, part of investment banking giant Morgan Stanley, and GMAC-RFC, part-owned by troubled US car maker General Motors, have both confirmed they are writing to some borrowers offering to slash their mortgage debt if they switch.
GMAC used to be the tenth-largest lender, based on loans sold in 2006.
Credit crunch-induced
Sub-prime institutions have been hit particularly hard by the credit crunch as many of their borrowers are missing payments. Therefore, they would prefer to have as few customers as possible on their books.
Edeus, another former sub-prime lender, offered to reduce switchers' debt by thousands last year.
Rather than writing-off debt, nationalised Bradford & Bingley (B&B) has agreed to waive any customer's early repayment charge (ERC), which can run into thousands, for those who switch before July. Many of its borrowers are BTL investors.
Offers for "selected" customers
While the B&B concession applies to any of its mortgage borrowers, Advantage and GMAC are only offering debt write-off to what they call "selected" borrowers.
It is understood those with better credit histories, who are more likely to be accepted for a new mortgage, are receiving offers.
How much is knocked off varies by customer. Generally speaking, you stand a better chance of getting a new mortgage elsehwere if you own at least 25% of your property outright.
So lenders are typically reducing mortgage balances to ensure homeowners have enough equity to switch. Therefore, those with little equity could get tens of thousands of pounds wiped off, but those who are already close to the 25% threshold may get smaller offers.
Over £20,000 wiped off
Steve, from Birmingham, who doesn't want to be identified by surname, has had his mortgage reduced from £88,000 to £63,000 by Advantage – a massive £25,000 cut.
Advantage originally wrote to him in May offering to cut his debt by £21,700. But when he tried to switch mortgage to Royal Bank of Scotland he was told he still did not own enough equity in his property.
Steve, who lives with his wife and step-daughter, asked his broker to call Advantage, which yesterday agreed to reduce his debt by a further £3,300 so he can now switch.
Not only has his debt been slashed by 28% but he won't have to pay an ERC or exit fee, while Advantage is paying his broker fee.
He will also move from a 6.7% fixed rate to a 3.99% fix, meaning monthly payments will fall from £644 to £407.
He says: "At first I thought it was too good to be true but it is certainly true. To say I am over the moon would be an understatement. It massively helps our finances."
Act fast and haggle
If you are mortgage customer with a sub-prime lender do not ignore any correspondence. If you're one of the lucky ones, your next letter could include a huge debt write-off offer.
And don't delay. For example, the current group of GMAC customers with offers have until the end of August to accept.
Brokers say it's worth following Steve's example and haggling.
Richard Morea, from fee-free broker London & Country, says: "Lenders want to see this process through so if you need more money knocked off your debt to be able to switch then call them up and ask. If you don't ask, you don't get."