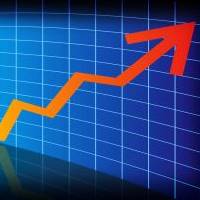 Inflation jumped at a record rate in December, official figures show today.
The Consumer Prices Index (CPI) hit 2.9% last month – much higher than expected by the City – compared with just 1.9% in November.
The Bank of England had forecasted a sharp spike in CPI at the beginning of the year, but the bigger-than-expected rise today may also prompt it to begin moving interest rates up from their current record low of 0.5% earlier than expected by the market.
The surge was because partly due to the effects of VAT rate changes, high fuel costs and less discounting from retailers in the Christmas run-up, the Office for National Statistics (ONS) says.
The jump to 2.9% in December is the biggest ever rise in the annual rate of CPI inflation in a single month, the ONS adds.
These extraordinary factors take CPI above the Bank of England's 2% target for the first time since last May and make an open letter from Bank of England Governor Mervyn King to the Chancellor virtually certain when inflation figures for January are released next month.
This is because of the return of VAT to 17.5% this month, which will add to inflation when contrasted with 12 months earlier when the tax was unchanged.
The Retail Price Index (RPI), which includes housing costs, rose to 2.4%, its highest level since November 2008.
This was a rise from 0.3% in November, and also constitutes the biggest monthly rise in the annual rate of RPI inflation since 1979.
Prime Minister Gordon Brown played down the inflation increase, saying it had been expected.
He says: "I don't think we should read too much into one month's figures on inflation.
"Generally, Britain has had for 12 or 13 years a low inflation environment that has made possible low interest rates."
Further reading/Key links
Best rates: Top Savings
Mortgage rate-busting: Cheap Mortgage Finding