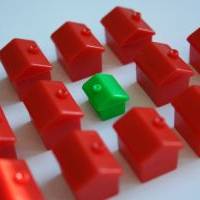 Two former Northern Rock (NR) directors have been fined a combined £644,000 for publishing misleading mortgage arrears figures before the bank's collapse.
The Financial Services Authority (FSA), which received strong criticism for its handling of the NR crisis in autumn 2007, says the pair's actions meant incorrect statistics, which understated the scale of the bank's problems, were used by NR, external stakeholders, the market and the FSA.
The chief problem was 1,917 loans in arrears but pending repossession were effectively ignored and not reported in either the bank's arrears or repossession numbers for 2006 (see the Mortgage Arrears and Redundancy guides).
Had they been reported as being in arrears, it would have increased NR's arrears figures by roughly 50% other those 12 months. In that year's annual accounts, the percentage of loans in arrears would have stood at 0.68% instead of 0.42%. The market average at the time with 0.89%.
If they had been reported as in possession, the number would have increased from 662 to 2,579 cases.
Massive fines
Former NR deputy chief executive David Baker was fined £504,000 for failing to escalate the problem after he become aware of it, meaning incorrect figures were published.
He had overall responsibilities for the firm's debt management unit and he cannot hold any future role that requires FSA regulation.
Richard Barclay, former managing credit director, was fined £140,000 for failing to ensure the correct information reported was accurate despite "warning signs at an early stage". He cannot perform any "significant influence function" at an FSA-regulated firm.

Margaret Cole, FSA enforcement director, says: "Baker and Barclay both held senior positions of trust but they provided inaccurate information to the Northern Rock board and the market.
"This is a loud and clear message that we are serious about taking action against senior directors where they step over the line."
Further reading/Key links
Get help: Mortgage Arrears, Redundancy help
Mortgage cost-cutting guides: The Remortgage Guide, Mortgage Haggling, Cheap Mortgage Finding, Ditch My Fix?