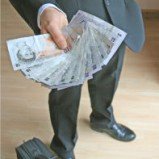 Thousands of savers with Santander and Alliance & Leicester (A&L) accounts with a combined balance of over £50,000 can withdraw their cash even if locked away.
The banks are allowing the amnesty to prevent savers losing protection for their cash if either went bust. But it is also a way for savers to boost their rate.
Santander-owned A&L will be rebranded as Santander this autumn. By the end of the year the pair will officially become one bank with one banking licence, meaning savers will only have the usual £50,000 per person protection combined.
Update, 6 May: Santander has admitted it incorrectly told us the pair will fall under one licence with one set of £50,000 protection at the end of the year. This will happen at the end of May.
At present, savers have £50,000 protected in each bank.
Only the 10,000 customers Santander has identified as having cash in both an A&L and Santander account, that adds up to over £50,000, can move cash at short notice if locked away. It is in the process of writing to those affected to explain their options.
Anyone else can transfer money from an easy access account.
Northern Rock scraps 100% guarantee
Northern Rock savers will also see major changes to protection levels next month.
From 24 May, they will get the usual £50,000 per person guarantee, rather than the full protection afforded by the Chancellor following the run on the bank in 2007.
Anyone on a fixed Northern Rock deal will maintain their 100% guarantee until the account's maturity date.
Review your savings
The savings safety changes should not only be a trigger to ensure your money is fully protected but also to ensure you're getting the best rate.
You can currently earn up to 2.8% with easy access or 4.6% if you fix for up to three years (full details and alternative accounts in the Top Savings guide).
Further reading/Key links
Best rates: Top Savings, Top Fixed Savings
Stay safe: Safe Savings