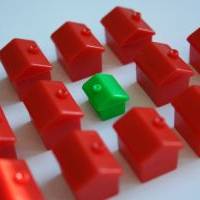 Mortgage rates are at their lowest level for a year so is now the time for homeowners to lock themselves into a cheap fixed rate deal?
Figures from data provider Moneyfacts show the average two-year fixed rate stands at 4.63% compared to 5.21% 12 months ago, which would represent a £600 drop in annual costs on a £150,000 loan.
Typical five-year fixes are at 5.85% compared to 6.24% this time last year, which equates to a £432 annual payment drop on the same mortgage.
This has led some to suggest now is a good time for first-time buyers, or those on their lender's standard variable rate (SVR), to get a deal which guarantees relatively low payments for two, three, five or 10 years.
On the flip side, many economists predict Bank of England base rate will stay low for months which is likely to keep SVRs and other variable rates low. Other factors such as a possible hung parliament may affect rates.
With this in mind, we asked three leading mortgage experts what their outlook is for the market to help you decide whether to go for the surety of a fix or gamble on variable mortgage rates.
Andrew Montlake, communications director at mortgage broker Coreco, says:
"Although inflation has risen more than expected, once again starting whispers base rate could rise sooner than expected, it looks as though the fragile recovery will keep them at bay in the next few months. Towards the start of 2011, the picture may look different.
"With competition in the mortgage market continuing to filter through, leading to the release of some competitive products, the difference between a two-year fixed deal and a two-year tracker is now only 0.5%.
"Many borrowers now believe there is a possibility of rates increasing by at least that in the next two years and therefore fixes are once again gaining in popularity. Also, with some three year fixes again under 4% and some five-year fixes around the 4.5% level, many borrowers are beginning to think that they should quit while they are ahead and lock in.
"It is the timing that is crucial and where some borrowers get caught is when they try to read the market rather than actually thinking what is best for them in the medium to long-term.
"Whilst it is easy for some commentators to keep saying that tracker rates are best, this is a little too simplistic and ignores the fact that for many people, actually paying a little more now for security could well save a lot of sleepless nights in the future."
Ray Boulger, senior technical manager at mortgage broker John Charcol, says:
"Whether it is time to consider fixing your mortgage depends on more factors than usual, but a good starting point is what your current rate is. For anyone on a good lifetime tracker, say base rate + 1% or less, I would definitely stay put.
"The higher one's current mortgage rate the more worthwhile it will be to switch and anyone paying 3.5% or more, subject to the amount of equity in their property, should consider switching, although not necessarily to a fixed rate.
"Fixing for only two years makes little sense. Either base rate stays low, in which case a tracker will be better value, or rates go up, in which case after two years new fixes will only be available at a higher rate. Therefore, I believe the sensible choice is either a tracker or a fixed rate for at least five years.
"Five-year fixed rates start at around 4.5% and 10 years at 5.29%, whereas comparable lifetime trackers (which are better value than short term trackers as the rates charged are very similar) start at just under 2.5%. When deciding whether to go for a fix or tracker the question is whether it is worth paying at least 2% more than the initial tracker rate for the interest rate protection offered by a fix.
"As always, your attitude to risk is important, as is how big an increase in base rate you could afford without risking not being able to afford your mortgage.
"The risk after a hung parliament is that as the politicians position themselves for another election in the near future the strong fiscal medicine the UK will have to accept would not be implemented on the scale or with the speed necessary.
"I would expect the uncertainty caused by a hung parliament to result in some increase in gilt yields and swap rates, but still expect the Bank of England to hold off any increases in base rate at least until it sees the content of the post-election budget. Anyone worried about political risk should apply now
"On balance, I still favour trackers but it is certainly possible to make out a much better case for buying a five-year fix now than for some time."
David Hollingworth, head of communications at mortgage broker London & Country, says:
"There's a lot of uncertainty about when base rate may rise. The obvious way to protect against rate rises is to use a fixed rate – these do exactly what they say on the tin.
"However, the decisions don't end there and the next consideration is how long to fix for. You can fix for a couple of years, all the way up to 25 years. The shorter terms offer lower interest rates but the downside is they only provide that security for the short term and it could mean coming off the fix into a market where rates are higher, resulting in a payment shock.
"Longer term deals provide that cushioning from rate movements for a longer period but they are priced higher so there is an initial hike to deal with.
"Other possibilities for consideration would be a hybrid like a capped tracker. These are pegged to base rate but limit the exposure to rising interest rates as they can't go above a certain point.
"Lenders also allow you to mix and match deals so some of your mortgage is fixed and some is variable."
"The bottom line is that fixing is always the right option for those that require the budgeting security. The practical way to assess this is to see how comfortable your finances look with rate increases."
How to get a mortgage
You often still need at least a 25% deposit, or 25% equity, in your property to get the best deals, but mortgages are available for those with smaller down payments.
Unless you're financially savvy it's usually best to seek advice from a whole of market mortgage broker given the complexities of home loan products.
Further reading/Key Links
Mortgage cost-cutting guides: The Remortgage Guide, Mortgage Haggling, Cheap Mortgage Finding, Ditch My Fix?