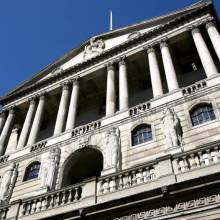 The Bank of England should hike interest rates in the second half of 2010 and lift borrowing costs to 3.5% by the end of 2011 to control rising inflation, an economic report says today.
The Organisation for Economic Co-operation and Development (OECD) says in its latest outlook that while record low interest rates had been "appropriate" so far in the recession, the Bank must act soon to return rates to normal.
It adds that even with the temporary pressures of the VAT rise in January back to 17.5% (from the short-term 15%) and higher fuel prices, rate action is required to keep rises in the cost of living under control.
The benchmark base rate currently stands at 0.5% and has remained steady for over a year. Any rise in interest rates would mean better returns for savers but could result in higher mortgage costs for millions.
The Retail Prices Index inflation measure, which includes housing costs, hit a 19-year high last month of 5.3%.
The OECD says: "Notwithstanding the temporary nature of these price developments, the gradual drift up of some measures of inflation expectations implies a need to increase interest rates earlier than previously thought and no later than the last quarter of 2010."
It is predicting economic expansion of 2.2% in the UK this year, rising to 2.6% next year, but says growth could stall in the second half as consumers come under pressure.
Further reading/Key links
Best rates: Top Savings
Mortgage rate-busting: Cheap Mortgage Finding