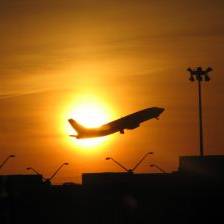 Passengers face further uncertainty today as the volcanic ash cloud continued to disrupt flights.
Britain's two biggest airports were suffering major flight disruption today – and a string of others were closed – after the return of the Icelandic ash cloud caused chaos for thousands of passengers.
A no-fly order saw Heathrow and Gatwick shut until 7am today, and both are only partially reopen for the next six hours, air traffic authority Nats says (see the Cheap Flights guide).
Flights are also grounded until lunchtime across Northern Ireland and much of Scotland and Wales, with warnings of widespread knock-on disruption later in the day both here and abroad.
There will be no arrivals at Gatwick until 1pm at the earliest. Big regional airports like Manchester, Glasgow and Stansted are open, but passengers everywhere are being urged to check with their airlines before leaving for the airport.
If you're affected, see our Volcanic ash rights Q&A guide, but note it was written a few weeks ago so the stated flight rebooking dates are no longer valid.
BA challenges strike
Meanwhile, frantic moves to avert the first of a series of strikes by British Airways cabin crew will be launched today.
BA and the Unite union will hold talks at the conciliation service Acas, while both sides will also meet separately with Transport Secretary Philip Hammond, just hours before thousands of staff are due to walk out.
The airline is also taking legal action in the High Court today to try to have the strike called off.
Cabin crew are due to walk out on 18-22 May inclusive, 24-28 May, 30 May-3 June and 5-9 June.
See the British Airways strike rights MSE news story if you're affected.
Additional reporting by the Press Association.
Further reading / Key links
Your rights: Volcanic ash, British Airways strike
Make them play fair: Consumer Rights
Fly for less: Cheap Flights
Beat airline tricks: Budget Airline Fee-Fighting