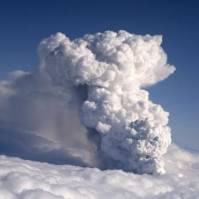 Air passengers endured further travel misery today as Iceland's volcanic ash cloud caused the cancellation of hundreds of flights.
UK and Irish aviation chiefs ordered no-flight restrictions covering most of Scotland, Northern Ireland and the Republic of Ireland (see the Cheap Flights guide).

Some of the no-fly zones are in place until 1pm and others until 7pm as ash levels drifting south from the Eyjafjallajokull volcano were deemed unsafe for planes.
Among the airports operating no flights between 7am and 7pm today were Glasgow, Prestwick and Campbeltown in Scotland, and Derry in Northern Ireland.
See our Volcano travel, employment and financial rights guide for help if you cannot travel (though airline rebooking dates may have changed since it was published, so check with your carrier).
Additional reporting by the Press Association.
Further reading / Key links
Make them play fair: Consumer Rights, Section 75 Refunds
Travel for less: Cheap Flights, Budget Airline Fee-Fighting, Cheap Trains