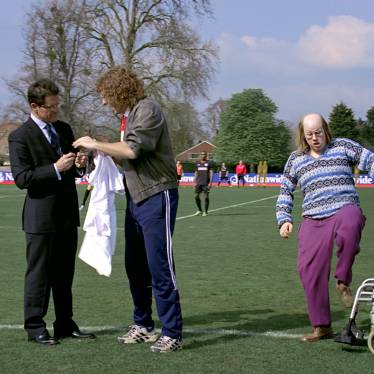 Nationwide Building Society is trumpeting its 'Football Bond' ahead of the World Cup amid a flurry of advertising. But it can be beaten by a bet at the bookies.
The four-year fixed rate deal, heavily promoted by the stars of hit TV show Little Britain (pictured, right, with England head coach Fabio Capello), pays a bonus from next year if England win the tournament, meaning you're taking a punt anyway.

Putting money away for such a long time with interest rates so low is a risk, as if rates rise you lose out if you want to ditch and switch. Many are safer on shorter fixes or easy access (see Best-buy savings).
How does it compare?
Nationwide's Football Bond pays 4.15% per year, fixed for four years, if England DON'T win the tournament. If England triumph, it still pays 4.15% fixed in year one, then 4.65% for final three years of the account.


The market-leader, ICICI bank, simply pays 4.5% fixed for four years, regardless.
Both require a minimum £1,000 deposit. The after-tax earnings after four years, based on a £5,000 deposit, are:
Nationwide pays roughly £700 interest to a basic rate taxpayer (£510 to a higher rate payer) if England DON'T win the World Cup and £750 (£550) if England win the coveted prize.


ICICI pays roughly £760 to a basic rate payer (£560) either way.

Therefore, whether the England team are drowning their sorrows, or drowning in praise, on a £5,000 deposit, ICICI pays a higher return regardless.
Want a flutter? Use the bookies
If you want to take a different gamble, you could always take the ICICI account and, based on the £5,000 example, use the £60 additional interest a basic rate taxpayer would get compared to Nationwide if England don't win, and place a bet on England winning.
Typical odds are currently 6-1, so that equates to a £360 win if England triumph, plus the £60 stake back.
Martin Lewis, MoneySavingExpert.com creator, says: "While I love the clever advert, this is pure gimmicky. With a bit of maths it works out even in the extreme case of someone desperate to have a stake riding on the world cup, there's a better way to do it than using the Nationwide bond.

"If England don't win, ICICI pays roughly £60 more for most after tax than Nationwide, based on our example. Now suppose you gambled that amount at the current 6-1 odds of England winning you'd get back £420 including the stake.
"So that way if England lose you get the same as Nationwide, if England win you'd get £370 more – I want that one!"
Therefore, either way round Nationwide is a loser, but let's hope England doesn't follow suit.
What about access to your cash?
One advantage Nationwide has over ICICI is that you can withdraw your money during the term of the account, but you'll lose a mammoth 320 days' interest. You cannot make part withdrawals – it's all or nothing if you take money out early.
ICICI does not allow any withdrawals until maturity so may not be suitable for anyone who requires access to their cash within the four years.
With both accounts, you're protected for the usual £50,000 per person, per financial institution if either went bust.
Further reading/Key links
Best rates: Top Savings, Top Fixed Savings
Stay safe: Safe Savings