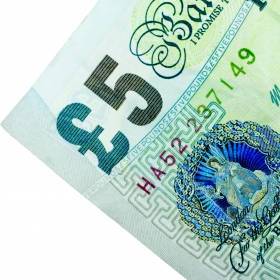 An ATM operator today launched a network of free cash machines that only dispense £5 notes.
Bank Machine has installed 21 cash machines across Britain that only give out fivers, regardless of how much money is withdrawn.
The group said the move aimed to help get more £5 notes into circulation, while it also enabled people to withdraw smaller sums, which is designed to help them budget (see the Budget Planner guide).
The introduction of the network of free-to-use machines follows a pilot of two ATMs that only dispense £5 notes in London.
The group said these machines were currently putting around 100,000 £5 notes into circulation each month.
'Help budgeting'
Ron Delnevo, managing director of Bank Machine, says: "Whether you withdraw £50 or £5 at our machines it will all be in £5 notes.
"There is cast iron proof that cash - and small denominations in particular - help people to budget, especially now during these financially stretching times."
Andrew Bailey, chief cashier at the Bank of England, says: "The Bank has several projects under way to meet public demand for more £5 notes.
"One of these aims at encouraging the industry to include £5 notes in their ATMs - the front line of cash provision to the public.
"Bank Machine's launch of a network of £5-only ATMs across the UK is thus a very welcome move."
The new ATMs will be at locations across Britain, including Manchester, Stroud, Oxford, Cardiff, Portsmouth and Banchory in Aberdeenshire.
Hatfield-based Bank Machine operates nearly 3,000 ATMs, including more than 700 that are free to use.
Further reading/Key links
Money help: Budget Planner, Money Makeover, Debt Help