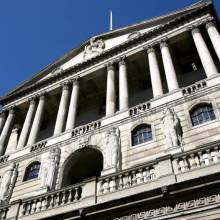 A leading economic forecaster today said UK interest rates will have to stay at their record low of 0.5% for much longer than currently expected.
The Ernst & Young ITEM Club, which bases forecasts on the Treasury's model of the economy, says the Bank of England's base rate will remain on hold until 2014 in order to counter-balance government austerity measures (see the Top Savings and Cheap Mortgage Finding guides).
The forecast contrasts with the view in the City and at the Office for Budget Responsibility that interest rates will start to rise next year.
High energy prices and the increase in VAT will keep inflation above target over the next 18 months, but ITEM believes it will move below 2% as these effects wear off and spare capacity bears down on pricing decisions.
"A base rate of 0.5% will begin to look like the new normal," ITEM chief economic adviser Peter Spencer says.
The report says fiscal tightening by the coalition government will slow economic growth in the next two years but should not choke off the recovery.
It adds it expects more sustainable high-quality growth from 2013 because it will be led by business investment and exports, rather than public spending.
Spencer adds: "The new coalition's plans to cut the deficit are certainly ambitious.
"But the bulk of the additional tightening is set to come in the second half of the parliamentary term, when we believe that the recovery will be firmly entrenched and the economy should be able to deal with the headwinds from the Budget."
The Bank of England's base rate has been at its record low of 0.5% since March 2009 and has been accompanied by a £200 billion programme of asset purchases. While the low base rate is a boost for borrowers, it is bad news for anyone who relies on an income from savings.
Pressure for an early rate rise increased last week after an estimate from the Office for National Statistics showed the economy grew at 1.1% in the second quarter, almost double forecasts and the best performance in more than four years.
Further reading/Key links
Boost your rate: Top Savings
Cut-price homeloans: Cheap Mortgage Finding