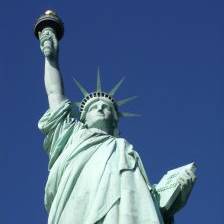 The US government will charge $14 (£9) to get an electronic 'visa' from 8 September to travel to the States.
US Customs and Border Protection has announced today that applying for an Electronic System for Travel Authorisation (Esta) will no longer be free from that date.
An Esta has been compulsory for all UK residents visiting the US since January 2009.
An Esta lasts for two years, or until your passport expires, whichever is sooner.
Act now
If you apply for authorisation now, you'll beat the $14 fee. Even if you've no current plans to go to the US, but may do in future, it's worth doing now (see the Beat ESTA Charges guide).
The charge has been introduced to cross-subsidise a different programme to promote travel to the US and attract new foreign spending to boost the economy.
Martin Lewis, MoneySavingExpert.com creator, says: "Anyone even mulling over going to the USA should urgently go and fill in their Esta right away.
"The security authorisation lasts for two years so do it now and it'll be free if you travel in that time. Yet leave it for a month and you'll have to pay.
"It is rather strange this fee is mainly going to promote US tourism. You would've thought keeping it cheaper to get in would help more - afterall, it's free for most Americans to come here."
If you already have an Esta, check its expiry date. The system started on 1 August 2008, on a voluntary basis, until it became mandatory five months later.
So if you were one of the first to get authorisation, the maximum two-year limit may be up.
If your Esta is still valid, extend it before the new charge comes into effect. To do this, you can't renew your existing Esta. You must submit a new application, giving you a new reference number.
Ensure you make note of this as it isn't emailed to you and you may need to amend your details at a later point.
Complete an Esta application online via the US Department of Homeland Security's Customs and Border Protection website.
Be careful when searching for 'Esta' in internet search engines as many companies have set up websites that look official but charge a high fee for submitting the application on your behalf (see the Beware copycat sites MSE News story).
What is an Esta?
According to the US government, it is not a visa even though it is required to gain entry to the country.
It is a web-based application form that tells you in advance whether you're eligible to travel to the United States under the Visa Waiver Program (VWP).
It can take up to 72 hours to be told whether you're successful, but the majority get an answer immediately.
An Esta approval doesn't guarantee entry into the America. It only grants 'approval to travel' to the States.
Further reading/Key links
Beat the new ESTA fee: Apply For ESTA
Cut the cost of travel: Cheap Flights, Cheap Travel Insurance, Cheap Hotels