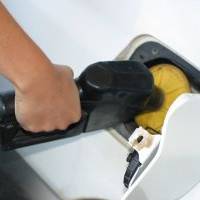 The price of diesel at the pumps has returned to around its highest level of the year, the AA says.
The average cost of a litre of diesel is now 123.07p compared with the 2010 high of 123.08p reached in May, the motoring giant reveals.
Diesel has risen 1.77p a litre from mid-October to mid-November while petrol has gone up 1.33p a litre to 119.08p.
The AA says the stronger pound had prevented prices rocketing even higher, with petrol still not as expensive as the year-high figure of 121.6p a litre reached in May.
Increased pump prices were largely blamed earlier this week for the October inflation figure of 3.2%.
The cheapest region for petrol is Yorkshire and Humberside, where average prices are 118.2p a litre.
Northern Ireland and London remain the most expensive areas for petrol at 119.7p a litre.
Wales and Northern Ireland share the spot for most expensive diesel in the UK at 123.6p a litre while Yorkshire and Humberside (122.3p) has the cheapest.
AA president Edmund King says: "Knife-edge, dread and uncertainty are the words describing the state of UK fuel prices at present.
"The stronger pound has shielded drivers and consumers from the worst of the market changes.
"However, the fall-out from next January's increase in fuel duty and higher VAT doesn't bode well for inflation figures and sterling, if this week's market reaction is anything to go by.
"At street level, a steady increase in pump prices, impending higher domestic energy bills and even reduced reward points for supermarket fuel purchases add to the sense of dread for the coming months."
How to slash fuel costs
Joint MoneySavingExpert.com/RAC research has found you could cut fuel bills by up to 60% by following some simple steps.
That equates to a £1,500 a year saving for a household that spends £2,500 a year on petrol or diesel.
Here are our tips for drivers:
Look for cheap petrol promotions, particularly in supermarkets. The Cheap Petrol & Diesel guide is updated when promotions are announced.
Use Petrolprices.com to find the cheapest local filling station.
Accelerate and brake gently.
Turn off the air conditioning.
Keep your car aerodynamic by ensuring it is clean and free of its roof rack, unless in use.
Keep tyres properly inflated.
De-clutter your car to make it lighter.
Further reading/Key links
Drive down fuel costs: Cheap Petrol & Diesel
Find cheap filling stations: PetrolPrices.com