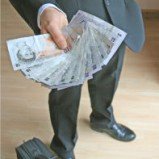 The Financial Services Authority (FSA) has ordered one of the largest ever compensation payouts from a single firm to hundreds of thousands of pension savers.
Scottish Equitable has been forced into a £60 million mass redress programme and must pay a £2.8m fine after a series of administrative blunders (see the Pensions guide guide).
The FSA identified 300 gaffes, some as simple as the wrong formula on a spreadsheet, but the result was massive financial disparities.
Some 181,000 Scottish Equitable customers have already received £30 million in compensation. The total £60 million is still an estimate so could yet rise or fall.
The chief problems included:
Incorrectly calculating the amount 774 savers could draw from their pension leading to up to £7 million in underpayments.


Failing to identify errors in calculating charges rebates on 25,000 policies, creating £6.7 million in underpayments.


Not depositing National Insurance (NI) payments from the Government for 2,500 policyholders, totalling around £6 million, where they had contracted out of the second state pension (meaning NI funded their private pot instead of their state pot).


Not issuing around 238,000 policyholder documents and failing to trace around 200,000 policyholders who had moved without informing the company. Neither of those failings caused financial loss but were nevertheless serious.
Compensation will be automatic so customers don't need to take any action.
Margaret Cole, from the FSA, says: "This case shows the importance of getting customer administrative procedures right and fixing them quickly when they go wrong. This is a key part of treating customers fairly.
"By letting the issues build up over such a long period Scottish Equitable made it even more difficult to fix the problems and this led to delays in getting compensation to customers."
Scottish Equitable, which now trades as Aegon, stresses it brought the problems to the FSA's attention.
A Scottish Equitable spokesman says: "We sincerely regret some customers have suffered financial detriment or inconvenience. The redress programme aims to resolve all the issues as quickly as possible and is a top priority for the firm."
Further reading/Key links
Boost pension: State Pension
Pension MoneySaving: Pensions