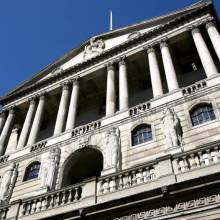 The Bank of England today announced it is holding the base rate at its 0.5% historic low for the 21st consecutive month.
The low interest rate environment has meant savers have seen the returns on their nest eggs slashed over the past two years.
On the flip side, mortgage holders whose deals are linked to the offical borrowing measure have often enjoyed rock-bottom monthly costs (see the Top Savings and Remortgage guides).
Policymakers also maintained money-boosting efforts at £200 billion under the Bank's quantitative easing (printing money) programme.
Stronger-than-expected economic growth and an improved performance in the manufacturing sector in recent months has steadied the Bank's hands, despite expectations of a slowdown in the pace of recovery in the months ahead.
It last altered its monetary policy in November 2009, when it increased the level of quantitative easing from £175 billion to £200 billion. Interest rates were lowered to their historic low of 0.5% in March 2009.
Further reading/Key links
Boost your rate: Top Savings
Cut-price homeloans: Cheap Mortgage Finding