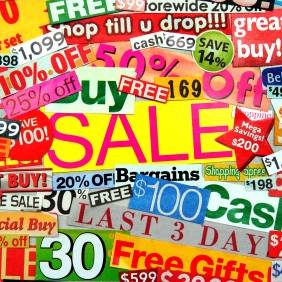 Consumers are being deceived by an array of potentially illegal adverts that mislead buyers over the true price or availability of a product.
The Office of Fair Trading (OFT), which today publishes the results of its market study into pricing, has warned business that flout the law, they face court action or fines.
Airlines, supermarkets and high street retailers are some of the firms that often use these risky tactics (see the High Street Haggling, MegaShopBot and Cheap Online Shopping guides).
The investigation found certain online, in-store and newspaper adverts "potentially breached the law" as consumers often spent too much or purchased items they would have avoided had companies been more upfront.
The OFT stresses, where used correctly, some identified techniques are not necessarily harmful. In fact, they can benefit consumers. However, some business abuse the rules.
Practices identified by the OFT that were most likely to cause harm included:
Drip pricing. Where optional or compulsory charges are added during the buying process, such as taxes, card charges and delivery fees. This is especially prevalent in the budget airline industry (see the Airline fee-fighting guide). This is a problem where the extras are compulsory and the true cost is hidden.


Time-limited offers (such as 'offer ends today'). If genuine, this is not a problem but some firms mislead consumers by putting undue pressure to 'buy now'.


Baiting sales. This is where a firm advertises an offer but has limited stock. For instance, the OFT has identified one unnamed company of targeting 30,000 people for an offer where only eight products were available.


Reference pricing. This means describing an offer as 'was £100, now £50', for example. The problem comes when the higher price is made-up or if it only applied for a short time.


3 for 2 or buy one get one free. These are a problem where prices are manipulated to make the offer possible, such as temporarily raising prices to cut them afterwards. Or where it is clearly misleading, such as telling customers a bigger pack is better value when it is not.
John Fingleton, OFT chief executive, says: "Pricing practices, used in a transparent and fair manner, can provide consumers with a helpful shortcut to assess whether a particular offer is a good or bad deal. However, our research has highlighted how certain pricing tactics can be used in a misleading way.
"Misleading pricing is not only bad for the consumer, it is also bad for competition, and creates an uneven playing field between fair dealing businesses that stick to the spirit of the law, and those that push the boundaries too far.

"We urge all firms to review their pricing practices and to get their houses in order where necessary."

The OFT used consumer surveys, focus groups, psychology literature and behavioral economics research in conducting the probe.
Prashant Vaze, from lobby group Consumer Focus, says: "Often these practices aren't illegal but work against the principles of fair and competitive markets working well for consumers. Consumers should know upfront what the goods and services they buy will cost.
"Nothing frustrates consumers more than seeing the price bumped up by extras such as booking fees and handling charges added at the end of the transaction."
Further reading / Key links
Cut costs: High Street Haggling, MegaShopBot, Cheap Online Shopping, Budget airline fee-fighting