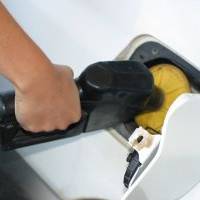 Chancellor George Osborne will consider axing the 1p rise in fuel duty due in April.
The Government has come under pressure as the cost of a litre of unleaded soared to almost £1.30 thanks to high global oil prices and this month's VAT hike to 20% (see Cheap Petrol & Diesel guide).
Fuel duty already eats up 58.95p for every litre, on top of VAT of more than 20p. Labour chancellor Alistair Darling announced a further 1p rise this April in last year's Budget.
Asked during a visit to the West Midlands yesterday whether he could do anything about the planned duty hike, Osborne said: "We can override it, we are looking at that."
The Chancellor appeared to indicate any relief for motorists may be announced in his 23 March Budget, saying that "if we are able to do something about it we will do it before April".
Osborne also confirmed ministers are considering a fuel stabiliser, so "the Government steps in to try to protect people from the effects" of volatility at the pumps by cutting the level of duty as oil prices rise and increasing it as they fall.
The Treasury later played down any suggestion Osborne was announcing an intention to scrap the rise.
"All taxes are kept under review as part of the budget process," said a spokesman. "We are not making any announcements outside the Budget."
'Nasty rises'
Business Secretary Vince Cable told a Westminster Press Gallery lunch yesterday: "It is quite likely that we are going to get a nasty period of high fuel prices."
On bringing in a so-called fuel stabiliser, to dampen the effects of oil price hikes, Cable added: "It could be made to work. It's difficult, because what is the price around which you set the ups and downs (of the oil price)?
"There are real technical difficulties in operating such a system."
Maria Eagle, shadow transport secretary, says: "The Conservative-led Government is all over the place on fuel prices.
"Each week ministers raise expectations of action but they've still done nothing.
"Warm words from George Osborne about a 1p change on fuel duty are all well and good, but families are paying 3p a litre more at the pump because of the VAT rise he chose to bring in."
Edmund King, the president of the AA, says: "Should the Government go ahead with scrapping the fuel duty increase in April. It shows that it understands the plight of millions of drivers trying to go about their daily lives, the drain on consumer spending and the impact on economic revival."
Further reading/Key links
Drive down fuel costs: Cheap Petrol & Diesel
Find cheap filling stations: PetrolPrices.com