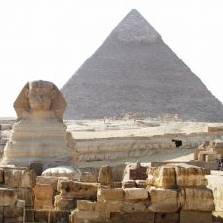 Holidaymakers bound for Egypt's Red Sea resorts may not get a refund if they cancel their trip despite the political crisis engulfing the country.
Official Foreign Office travel advice is to avoid the capital Cairo, Alexandria, Luxor and Suez unless absolutely necessary.
However, this does not extend to the state's Red Sea resorts of Hurghada and Sharm el Sheikh (see the Foreign Office guidance).
The former is 450km from Cairo and 290km from Luxor. The latter is an eight hour drive from Cairo.
This means travel insurance policies are unlikely to pay out if you cancel, while holiday firms are maintaining existing flight schedules to these areas. Those bookings will, in many cases, be non-refundable.
Most of the one million British holidaymakers who visit Egypt each year go to the coastal resorts of Sharm el Sheikh and Hurghada, according to the Association of British Travel Agents (Abta).
Travel insurance exclusion
The Association of British Insurers (ABI) says most insurers will only payout if you cancel a trip due to economic turmoil if the Foreign Office advises against travel to that region.
A spokesman says: "I cannot see insurers paying out for those who don't want to go to Sharm el Sheikh or Hurghada but they will be keeping a close eye on the situation."
The ABI also points out that not all policies cover cancellation due to civil unrest or cancellation at all, so even those with trips planned to Cairo may not be able to claim on their insurance.
If you travel against Foreign Office advice this could invalidate a policy.
Package holiday latest
Tour operators are continuing to fly passengers to Sharm el Sheikh and Hurghada.
However, Thomas Cook and Thomson have cancelled flights to Luxor tomorrow.
Thomson adds that it is laying on extra planes to take passengers home.
An Abta statement says: "Any tourists based in Cairo, Alexandria, Luxor or Suez should liaise with their tour operator or airline regarding their holiday arrangements.
"Tourists should also follow Foreign Office advice, avoiding political gatherings and demonstrations and respect any advice or instruction from the local security authorities."

If your holiday is cancelled by the tour operator you are entitled, by law, to a full refund or an alternative holiday.
If you trip is cut short, tour operators are likely to offer a refund for unused accommodation only, though Abta stresses this is out of goodwill and not enshrined in any regulations.
If unsure or you need advice, contact your travel agent. Also keep updated via the Cosmos, Thomas Cook and Thomson/First Choice websites.
Scheduled airline latest
If you are due to fly to Egypt, check the status of your flight with your airline.
For example, British Airways is still flying passengers to Cairo and Sharm El Sheikh, though flight times to Cairo have changed to operate outside the imposed curfew.
Anyone travelling to or from Cairo who booked on or before 28 January can get a full refund, change the booking to another time in February or use the value of the ticket towards an alternative trip.
Regardless of the airline, if your flight is cancelled you are entitled to a full refund or rebooking. See the British Airways website for updates.
Further reading / Key links
Make them play fair: Consumer Rights, Section 75 Refunds
Travel for less: Cheap Flights, Budget Airline Fee-Fighting, Cheap Trains, Cheap Hotels, Travel Insurance
Official websites: Foreign Office, British Airways, Cosmos, Thomas Cook, Thomson/First Choice