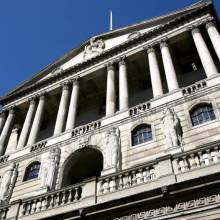 The Bank of England today announced it is holding the base rate at its 0.5% historic low for the 23rd consecutive month.
Some economists said there was a 25% chance of the official borrowing rates rising this week, though most expect a rise later this year.
The Confederation of British Industry (CBI) predicted at the end of 2010 that high inflation will force the Bank to raise interest rates gradually in the spring.
It forecasts the base rate will hit 2.75% by the final quarter of 2012.
The low interest rate environment has meant savers have seen the returns on their nest eggs slashed over the past two years.
On the flip side, mortgage holders whose deals are linked to the official borrowing measure have often enjoyed rock-bottom monthly costs (see the Top Savings and Remortgage guides).
Base rate dropped to 0.5% in March 2009.
Further reading/Key links
Boost your rate: Top Savings
Cut-price home loans: Cheap Mortgage Finding