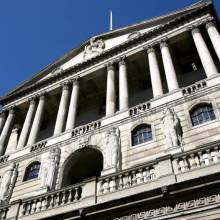 The Bank of England today announced it is holding the base rate at its 0.5% historic low for the 24th consecutive month.
Most economists predicted there would be no hike this month though some considered there was an outside chance. Many expect a small rise later this year.
However, minutes of the Bank's Monetary Policy Committee's (MPC) monthly meeting in February showed the number of policymakers who voted in favour of a hike increased again.
Spencer Dale joined fellow monetary policy committee members Andrew Sentance and Martin Weale in voting to lift the base rate from its historic low of 0.5%.
Minutes of March's meeting will be out later this month.
The Confederation of British Industry predicted at the end of 2010 that high inflation will force the Bank to raise interest rates gradually in the spring.
However, increasing interest rates could lead to more repossessions if mortgage become unaffordable. Research out yesterday showed 90% of borrowers are on a variable rate mortgage so will pay more if the base rate rises.
The low interest rate environment has meant millions of mortgage holders have often enjoyed rock-bottom monthly costs over recent years (see the Top Savings and Remortgage guides).
On the flip side, savers have seen the returns on their nest eggs slashed over the past two years.
Base rate dropped to 0.5% in March 2009.
Ray Boulger, from mortgage broker John Charcol, says: "It is abundantly clear from the recent speeches and other comments from several MPC members that there is more disagreement among its members than ever before.
"However, with the recently revised GDP figures for 2010 being even worse than the initial estimates, the MPC members who have been calling for a rate increase need to give even more consideration to how much impact such a move would have on an economy that is at best stagnating."
Further reading/Key links
Boost your rate: Top Savings
Cut-price home loans: Cheap Mortgage Finding