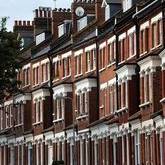 Mortgage rates edged up during February but the cost of unsecured borrowing continued to fall on the back of strong competition.
Interest charged on a five-year fixed rate mortgage increased for the third consecutive month to average 5.17%, up from 5.03% in January and the highest level since July last year, the Bank of England says (see The Remortgage Guide and First-time Mortgage Guide).
The cost of a two-year fixed rate deal for people with a 25% deposit also crept higher to 3.72%, a rate last seen in September 2010, as high inflation increased expectations that interest rates would rise sooner than previously expected.
This drove up swap rates, which mark the cost lenders pay to borrow money they then advance as fixed rate mortgages.
The rates charged on two-year tracker mortgages for someone borrowing 75% of their home's value also increased to a five-month high, rising to 3.54% from 3.51%.
Demand for mortgages has intensified recently as people who had been sitting on their lender's standard variable rate look to take out a new deal before the base rate rises.
The increase in demand has led to many lenders pulling their most competitive fixed rate products, with recent research from financial information group Moneyfacts showing that the average time a fixed rate deal remains on the market had nearly halved during the past year, dropping from 27 days to just 14 days.
The positives
There was better news for people looking to take on unsecured debt, as lenders continued to compete for business.
Average interest charged on a £5,000 personal loan fell for the third month in a row to 13.46%, while rates on a £10,000 loan dropped by 0.3% to 9.17% – the lowest level for two years.
Competition in the personal loan market has been intense since the beginning of the year, with rival providers repeatedly undercutting eachother to have the best-buy rate.
January and February are traditionally busy months for the personal loan market, as people take stock of their finances and often decide to take out a loan to consolidate their credit card debt in a bid to reduce their monthly outgoings.
But the battle for customers has been particularly strong this year as banks have reassessed their capital position and found they can now afford to offer unsecured borrowing again, boosting competition.
Typical credit card rates also edged lower during February, falling from 16.79% to 16.68%, while overdraft rates were unchanged at 19.09%.
Further reading/Key links
Mortgage cost-cutting guides: The Remortgage Guide, First-time Mortgage Guide, Cheap Mortgage Finding, Ditch My Fix?
Loans: Cheap Loans, Cut Loan Costs, Credit Card Loans