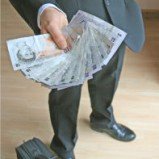 A mammoth 150,000 people have already checked if they're entitled to benefits just 48 hours after MoneySavingExpert.com launched a wide-ranging benefits check-up tool.
The aim of the tool, powered by benefits specialist Entitledto, is to help users find out what handouts they are eligible for (see the Benefits check-up tool).
Of the 13.5 million people living in poverty in the UK, only 5.4 million claim state support.
Since the tool was launched late on Tuesday evening the 148,000 who have used it have discovered they could be eligible for a combined £1,499,000 a week of child tax credits, £933,000 a week of housing benefit and £538,000 a week of pension credit.
Some may already be claiming these sums though figures show millions fail to claim all they are entitle to.
A coalition of charities said last year more than £16 billion of means-tested benefits and tax credits goes unclaimed each year
In particular, 1.5 million on low incomes eligible for pension credit don't claim.
Those who are most likely to be entitled to benefits are parents with a sub-£40,000 family income, those who have a disability, carers, over 60s or workers who earn less than £18,000 a year.
The benefits and tax credits web stretches further than you may think. In some, albeit rare cases, families with £70,000 income are eligible.