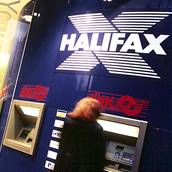 Halifax/Bank of Scotland (Hbos) is revamping the way it charges interest on credit cards which will initially see price cuts for many but with the likelihood they will soar in future.
The Government-backed bank will move most existing customers onto a new system in August where they are charged a new rate plus the Bank of England base rate.
Hbos, owned by Lloyds Banking Group, says most customers will see a fall in rates as result – with an average 0.25% cut – assuming the base rate stays at 0.5%.
But the current base rate is way below the typical level over the past decade of roughly 5% so there is scope for a significant hike – by 4.5 percentage points if base rate moves to 5%. Most economists expect a jump of some sort this year.
However, there is a way to reject the change if it will harm you (see the Reject Rate Hikes guide).
Cardholders will be told under what circumstances they may see a future hike in charges both as a result of base rate rises and if they break the conditions of their card contract.
Who is affected?
Most existing Hbos customers will move onto the new system this August.
Anyone who opened or opens an account from 1 December 2010 will remain on their initial rate until 2012. In addition, anyone with a Halifax Clarity card is unaffected until 2012.
Those customers above will be moved to the new system next year although Hbos has not set a time-scale for this yet. It says they will have at least 12 months on their initial terms.
What will I pay?
The rate existing customers will pay is based on the average rate applied to balances in January to March this year, so if they made cash withdrawals, which are more expensive, they will pay more for purchases than others in future.
If you did not use your card during the first three-months of the year Hbos will use your standard purchase rate to base the rate going forward.
You won't necessarily pay the precise average but the one that is closest to Hbos's various rates on offer.
The existing 0.5% base rate will form part of this sum. If base rate rises, the amount charged on an Hbos credit card will rise by the same percentage point change.
For example, if the new rate is set at 16.95%, this is made up of 16.45% + the base rate at 0.5%. Assuming a constant £1,000 balance, this would result in a £169.50 annual charge.
If base rate rises to 5%, you will pay 21.45%. Using the same example, it's a £214.50 fee.
The new rate will apply to all transactions, including purchases and withdrawals.
What if I'm on a promotional balance?
Hbos will honour all promotional deals until they expire, such as 0% introductory offers.
Will I pay more or less?
Hbos insists the majority of customers will either pay less interest, exactly the same amount of interest or less than two pence more for every £1,000 they borrow initially.
Overall, it says the average rate it charges will drop by 0.25%, on the big assumption the current 0.5% base rate remains the same.
When does this come into effect?
Cardholders will be notified in writing next month and will pay the new rate from August.
However, they will be shielded from any base rate rises for the next seven months as that initial rate cannot jump until November.
Can I reject the change?
Under new rules introduced this year, most cardholders have 60 days to reject a rise from the date of notification, though they cannot then use the card for new spending when exercising that option.
Anyone can utilise this clause when they get notification of the change given it is likely to result in future rate rises – in fact, customers will have more than 60 days. Hbos will given them until the end of July.
They will then continue on their existing terms, but cannot use the plastic again (see the Reject Rate Hikes guide).
However, if the rate rises as a result of the base rate rising cardholders cannot reject the hike as an exception to this clause includes increases linked to an index such as the base rate.
Before rejecting the change, consider that other card companies may also up their rates if base rate rises so you won't necessarily be better off by switching from Hbos to spend on another card.
Martin Lewis, MoneySavingExpert.com creator, says: "This is not a very subtle attempt to make capital out of today's anomalously low interest rates. By pegging when rates are at a 300-year historic low, it knows the only way is up (Yazz would be proud).

"I'd urge every Hbos cardholder to check how they're impacted at speed. Look at both the current situation and what'd happen to you if UK rates rose to 5%.
"If you only lose now or only gain slightly but would lose substantially if rates rise, then consider rejecting the change, provided you are comfortable with the fact you won't be able to borrow more from it in future.

"While Hbos may argue rates are dropping, the long-term impact of pegging at low rates could be damaging for many people."
Aside from base rate moves, can the rate change again?
If customers don't stick to the account conditions (below) or display what Hbos considers to be riskier behaviour, their rate could jump.
These include:

missed payments or exceeding your credit limit multiple times;
an increase in cash withdrawals;
not keeping to conditions of another Lloyds Banking Group product;
if credit reference agencies report a deterioration in their history;
or, if Hbos "experiences or anticipates changes to the cost of running its business". This could be due to changes in operating costs, such as having to hold more cash in reserve in case it runs into financial problems.
If the rate rises as result of any of the conditions above, customers can utilise the 60-day rejection window.
On the flip side, Hbos says if users consistently stick to the account conditions, their rate could fall. Accounts will be reviewed at least twice a year.
What if I always pay my card off in full?
If you only make standard purchases (not cash withdrawals) and pay the balance each month you won't pay any interest so there will be no impact, even if the rate changes.
What Hbos says
Ken Stannard, Halifax director for credit cards, says: "This is straightforward and fair pricing, which will give our customers far greater transparency and control over their interest rates.
"Our customers tell us that one, simple rate makes it easier to understand their credit card, and they want to better understand how and why their interest rates may change."
Will Lloyds customers be affected?
The changes only impact Hbos customers for now but Lloyds TSB (part of Lloyds Banking Group) is conducting a review of its credit card business which may also bring changes, though they have yet to be determined.