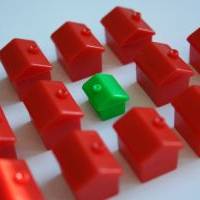 The cost of mortgages where your savings are used to offset the interest charged is falling relative to standard home loan rates.
Margins between those rates have dropped from around one percentage to about a third of a percentage point over recent years.
This has prompted some experts to suggest they are a good option for borrowers who want a decent home for their savings in the face of plummeting returns due to the all-time low 0.5% Bank of England base rate.
What is an offset mortgage?
An offset mortgage is a deal where your savings reduce the interest you pay.
Say your mortgage balance is £150,000 and you have £50,000 in savings in a linked account, you only pay interest on the £100,000 difference.
With an offset you are effectively saving at your mortgage rate tax-free and usually with easy access.
What's the catch with offsets?
While they seem a tempting option, the problem is that the rate and/or fee is usually higher than on a comparable standard mortgage meaning only those with a large amount of savings will benefit.
However, those margins are falling. David Hollingworth, from broker London & Country (L&C), says a few years ago an offset could have cost up to one percentage point more than a standard deal.
Now, based on average two-year tracker rates, the margin is 0.36%, according to financial website Moneynet.
Chris Smith, from Yorkshire Building Society, says: "In the current climate, now is the ideal time to look at an offset product due to the low base rate."
How do you work out the benefit?
In its simplest form, the key is to do the maths to determine what you can earn in a standard savings account after tax and deduct that sum from the interest charged on a standard mortgage to work out the overall cost of borrowing.
Then compare it to the interest charged on an offset mortgage where your savings are in a linked account. Always factor mortgage fees into your calculation, too (see the Offset mortgage calculator).
For those with a relatively small amount of savings in comparison with their mortgage balance, an offset is usually not the best option.
Hollingworth says: "You need to factor in whether you will make adequate use of the offset facility and have adequate savings as a proportion of the mortgage.
"The level of savings, the margin between a standard and offset mortgage and the borrower's tax status will all have an impact."
What if you have a cash Isa?
Another key point to consider is what happens to any cash Isas you have if you choose an offset.
As they are tax-free, Hollingworth says it's often worth keeping Isas separate and not use them to offset your mortgage interest given the return on the top deals is likely to be more than the mortgage cost.
If you used that cash as part of your mortgage you may also lose the tax-free status of the Isa when the mortgage is paid off as few providers ring-fence this money.
So are offsets best?
We compared the top offsets against the top standard mortgages, as provided by L&C, on a typical £150,000 loan on an interest-only basis.
For basic rate taxpayers with £20,000 or £50,000 in savings a standard mortgage is cheaper when their money is placed in the top 2.4% (3% before tax) easy access and penalty-free savings account.
However, as the table below shows, higher rate taxpayers who earn less from their savings after tax is deducted, may find an offset is best, even compared to the best savings account.
Offset vs standard mortgages (£150k, interest-only loan)
Product
Standard
Offset
Standard
Offset
£20k savings – borrowing cost over term
£50k savings – borrowing cost over term
Top two year fix

£9,645

£10,029

£8,565
£8,155
Top two year tracker

£6,795


£6,953


£5,715
£5,583

Assumes fee paid up-front, those on standard mortgage get 1.8% savings account after higher rate tax, where earnings deducted from mortgage cost. Assumes savings and mortgage rates don't change. Following mortgages used: Santander 2-yr fix 2.79% + £1,995; YBS 2-yr offset fix 3.09% + £1,995; ING 2-yr tracker 2.19% + £945; First Direct 2-yr offset tracker 2.29% + £999.
Hollingworth points out that offsets are a lifestyle choice as well as a purely financial choice as they tend to allow access to your savings. If you simply used the money to overpay a standard mortgage you would have no access.
"They suit those that might like to overpay but are hesitant about losing access to their savings, especially with the uncertain outlook for the economy," he explains.
In addition, those who may not have sufficient savings now but may do in future, whether through a bonus or windfall can benefit, he adds.
One problem facing consumers is the lack of awareness of offsets, even among some mortgage brokers.
Research from YBS shows 40% of borrowers it sampled with at least £10,000 in savings were not given the option of an offset by their adviser or broker.