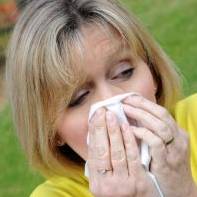 Hayfever sufferers can save serious cash by buying tablets online, but there's no safety guarantee from unregulated firms.
In some cases, you can pay just a tenth of the price by opting for a generic version of a medicine, rather than the more expensive branded equivalent.
For example, a three month supply of cetirizine hydrochloride hayfever tablets – the active ingredient in the major Zirtek brand – is available for under £5 in Morrisons, or £3 delivered from online pharmacy Chemist-4-U, compared to over £30 for Zirtek from Boots.
But while dirt-cheap hayfever tablets may be attractive, you should never go on price alone.
Check it's registered
Before you buy from an online pharmacy, check it's registered with the independent regulatory body, the General Pharmaceutical Council (GPhC). This covers both online and high street pharmacies in England, Scotland and Wales.
The GPhC link on the right of this story takes you to the register of firms.
The GPhC is responsible for setting standards of conduct and investigating and ensuring pharmacies are fit to practice. There are about 13,500 pharmacy businesses currently registered. The GPhC carries out routine inspections, and can remove them from the register if necessary.
Look for the registration number
A GPhC spokesperson says: "If you're thinking of buying from an online pharmacy, follow the guidelines on the GPhC website to make sure you're buying safe and genuine medicines.
"Look for the official logo, and check it's legitimate by entering its number in the GPhC online register."
The GPhC does the former job of the Royal Pharmaceutical Society of Great Britain, which acted as both the regulator and leadership body.
This was split into the GPhC and the Royal Pharmaceutical Society (RPS) in September 2010, giving the GPhC greater power as an independent regulator. The RPS is now the professional body for the industry.
What else to look for
There are several other factors you can check to help make sure you're buying from a legitimate online pharmacy:
Ensure there is a name and address of the pharmacy behind the site

Check both the pharmacy and the pharmacist are registered

Avoid sites that offer prescription-only medicines without a prescription

Check you're asked questions before buying to make sure the medication is suitable