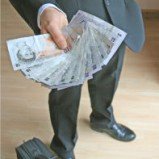 Firms that charge fees for finding hard-up consumers a loan will have their activities curbed, after the Office of Fair Trading (OFT) found some pocket cash without carrying out the service.
Consumers may now have the right to their money back where no loan is offered, while the OFT also wants the Government to consider banning up-front fees in the sub-prime market – for people with credit problems.
Meanwhile, the watchdog will also publish guidance later this month to tackle other unacceptable practices in the debt management industry.
The action comes after a 'super complaint' launched by charity Citizens Advice in March that the OFT is duty-bound to respond to.
The complaint was specifically about credit brokers and debt management firms following concerns about their negative impact on vulnerable consumers.
The OFT issued warnings to 129 debt management businesses in September 2010 as part of its crackdown on dodgy practices.
Fees curbed
The OFT estimates 270,000 consumers paid an up-front fee to a sub-prime credit broker in the last 12 months, typically between £50 and £70, on the expectation of being offered an unsecured loan.
Complaints to Consumer Direct about these up-front fees more than doubled between 2008 and 2010.
In addition, in the 2010/11 financial year, the independent Financial Ombudsman Service received over 5,000 initial enquiries and complaints to its helpline about credit brokers, more than double the 2,000 in 2009/10.
The Ombudsman upheld around 70% of credit broking complaints in favour of the consumer in 2010/11.
In the worst cases, firms take the money without finding any lender, the OFT says. In others, they find borrowers a completely unsuitable loan.
The OFT today says:
Consumers may have a right to a refund of the up-front fee, under contract law, where no introduction to a lender is made. The OFT says it cannot be more definite as it is not judge and jury on matters of contract law.
Where an introduction is made but no loan is taken out, the OFT expects brokers, six months after introducing a consumer to a lender, to advise them of their right to a refund of the fee. The OFT says in these cases the law is clearer and borrowers are entitled to their money back.
John Fingleton, OFT chief executive, says: "Our evidence suggests some businesses are deliberately taking people's money up-front with no realistic expectation of finding them the type of loan they need.
"We will continue to take robust action against businesses using unfair practices and we are providing new guidance making very clear the kind of behaviour we expect. We are also asking the Government to look at the impact of a ban on up-front fees."