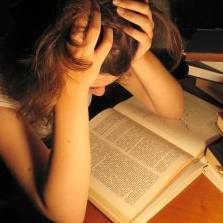 Online retailer Amazon has launched a textbook trade-in scheme this week, yet a few minutes of research could help you find a better selling price.

The news comes as students start the summer holidays, leaving thousands of unwanted – and valuable – textbooks gathering dust.

The Amazon textbook scheme lists over 22,000 eligible titles, and offers consumers gift card credit to spend on Amazon's website in return for listed textbooks.
Key Points
Online retailer Amazon launches textbook trade-in
Amazon gift card credit offered for old textbooks
But prices can often be beaten elsewhere
It will buy books from you for anything from 25p, though many books will fetch far more.
Amazon pays for postage costs as part of the scheme, as you can print off a free postage label to stick on the envelope.
Textbooks must be in "good" condition. They can be lightly highlighted but have no notes, markings, torn or folded pages, and mustn't have any personalisation on any page.
While the Amazon trade-in scheme may prove better value in some cases, it's worth checking the market if your aim is simply to get the best price; in most of our research it was well beaten.

How to find the best price

You may be able to sell the item for more on Amazon's Marketplace – a separate feature to its trade-in service where individuals can sell items to other buyers – or via online auction site eBay.
Unlike Amazon's textbook trade-in, both let you set your own price and specify the item's condition.
On the flip side, you'll need to pay for postage on both. While you can always charge that back to the buyer, it makes the deal less attractive to them.
Here are three examples where we found better deals away from the Amazon trade-in service (prices include delivery):
Mathematics Explained for Primary Teachers is worth £7.25 credit via Amazon's trade-in, yet is on sale for anything from £20.80 on Amazon's Marketplace, and typically sells for about £15 on eBay.


Managing Successful Projects with PRINCE2: 2009 Edition gets £23.85 credit via Amazon's trade-in, yet is on sale from £47.80 on Amazon's Marketplace, and typically sells for about £40 on eBay.


Essential Revision Notes for MRCP gets £14.30 credit via Amazon's trade-in, but is on sale from £40.74 on Amazon's Marketplace, and typically sells for about £27 on eBay.
Archna Luthra, MoneySavingExpert.com consumer products analyst, says: "The trade-in scheme's a nice idea, but Amazon has sadly fallen short on price here.

"It's a no-brainer to flog unwanted textbooks, but you're far better selling via Amazon Marketplace or eBay. It's also worth checking if your college or uni has set up a scheme."
Also bear in mind that Amazon's gift card credit expires a year after issue.