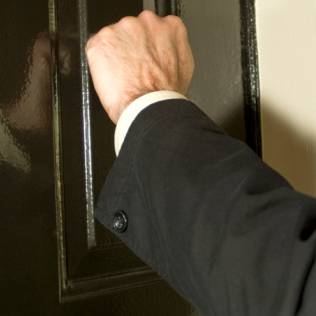 Consumers should beware of an increase in rogue doorstep traders this summer, warns the Office of Fair Trading (OFT).
With complaints about doorstep salesmen offering home improvement services peaking in the summer months, the watchdog is this week launching an awareness campaign to try to protect consumers.
Rogue doorstep traders will often offer services at attractive rates and use persuasive sales techniques to encourage people into making hasty decisions.
But it is hoped the campaign, which is urging householders to be cautious and take time to think about people who call at the door, will empower, in particular elderly consumers, to make effective purchasing decisions when buying on their doorstep and reduce their vulnerability.
The OFT is working alongside local authority Trading Standards Services, the Neighbourhood and Home Watch network, and other key players to increase awareness about rogue doorstep trading.
Jim Maddan, chair of Neighbourhood and Home Watch for England & Wales, says: "We are supporting this campaign because it's important that people feel safe in their homes and understand the tactics used by conmen.
"These types of rogue traders will try to find common ground with a homeowner and use deceptive and misleading claims. Some may falsely claim to be endorsed by a trade association or a local council.
"It is important that people have the confidence to say no to doorstep traders and take the time to think about the service being offered."
Past complaints
Figures released by the OFT this week show home improvements continue to top the list of complaints about doorstep rogue traders, with government body Consumer Direct receiving more than 13,000 complaints about uninvited traders last year.
Half of the 13,000 complaints (5,718) related to home maintenance work, with 30% about roofing, 19% about tarmacing and paving, 12% about insulation, 10% about general building work and 6% relating to burglar alarms.
Michele Shambrook, deputy operations manager at Consumer Direct, says: "It is not illegal for handymen to canvas for work, but it is important people are cautious and do not make hasty decisions.
"Rogue doorstep trading is an ongoing problem in the UK and work or services carried out can sometimes be unnecessary, of a poor standard, much more expensive than originally quoted or not done at all.
"This campaign is helping people to recognise the warning signs, so that they have the confidence to say no if they're unsure about what is being offered."
What can consumers do?
The OFT offers the following advice on how people can avoid being scammed by rogue doorstep traders:
If a trader knocks at your door do not agree to on the spot house repairs, or sign anything on the spot;


be wary of special offers or warnings that your house is unsafe;


do not make snap decisions. Take time to talk to someone you trust before you make a decision;


if in doubt, call Consumer Direct on 08454 040506 or visit the Direct.gov website.