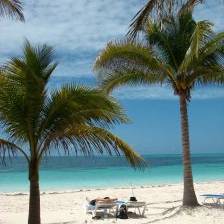 Travellers have huge misconceptions about the cost of going on holiday, a new survey reveals.
Price comparison site Skyscanner.net found many consumers have mistaken beliefs about where in the world you can get the best value for your money.
The survey, which looked at 30 top holiday destinations across the globe, also highlights the difference that flights can make to the overall cost of a holiday.
For example, consumers perceived India to be the cheapest holiday destination when considering the price of accommodation, eating out and buying food and drink, but according to Skyscanner, the actual cheapest country to holiday in is the Dominican Republic.
However, once the price of flights is included in the overall cost, the Dominican Republic moves off the top spot into sixth place and the cheapest holiday destination, factoring in flights, proves to be Poland.
Popular holiday destinations including the USA and Croatia were believed to be cheap, ranked by consumers in tenth and eighth place, when in reality they were a lot more pricey taking up the twenty-first and nineteenth spots.
The findings
India, followed by Thailand, then Morocco were voted for by consumers as being the cheapest countries to holiday in. In reality, before the cost of flights, Skyscanner found the cheapest country to visit is the Dominican Republic, followed by Poland, then Cyprus.


The cheapest place to visit, including the price of flights, is Poland, followed by Spain, then Cyprus.


The country perceived to be the most expensive holiday destination is Sweden, followed by Switzerland, then Denmark. In reality, the most expensive country is Switzerland, followed by Brazil, then Australia.


When factoring in flights the most expensive holiday destination is Australia, followed by Brazil, then South Africa.
Skyscanner's Sam Poullain says: "This study shows it is hugely important for tourists on a budget to research all the various costs of holidaying abroad before deciding on a destination, rather than relying on their instinct for costs.
"Most importantly, consider the price of the flight as it can have a real impact on the overall cost."