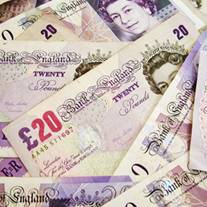 Britain's economy slowed between April and June after new data today showed the UK grew by 0.2% in the quarter.
This is lower than the 0.5% seen in the first quarter of 2011, but the Office for National Statistics (ONS) says the figures this time were heavily influenced by one-off factors such as the royal wedding, Olympic ticket sales, record warm weather in April and the Japanese tsunami.
Key Points
Growth slows to 0.2%
Follows 0.5% growth in previous three months
Figures 'not as bad as could have been'
The ONS estimates the impact of these effects knocked as much as 0.5% off the GDP figure, which otherwise may have shown growth of 0.7%.
The performance will offer some relief to Chancellor George Osborne, who has come under pressure to amend his deficit reduction strategy amid concerns that a sluggish economy could affect tax revenues targets.
The Government's tax and spending watchdog had projected 0.4% for the second quarter, but many City economists reduced their GDP forecasts recently because of mixed manufacturing, services and construction figures.
Production output dropped by 1.4% in the three months but this was offset by a good performance in the powerhouse services sector, where output rose by 0.5%, and in construction where output rose by 0.5%.
Manufacturing declined by 0.3% quarter on quarter, a performance put down to the impact of the Japanese tsunami on supply chains. The warm weather also had an impact on gas and electricity demand.
Year-on-year, the UK economy grew by 0.7%, which was the lowest rate of growth since the first quarter of 2010.
Howard Archer, chief UK economist at IHS Global Insight, says: "The GDP report is weak but not as bad as it could have been.
"While the worst fears were not realised, growth of just 0.2% in the second quarter after flat activity in the previous two quarters combined is hardly a performance to celebrate."
Calls to reverse the VAT increase
The Chancellor has faced calls recently to reverse the VAT increase which took effect in June, but said yesterday that low interest rates and the UK's credit status had justified his tough stance on the deficit.
Osborne says today: "The positive news is that the British economy is continuing to grow and is creating jobs.
"And it is positive news too at a time of real international instability we are a safe haven in the storm.
"Our economy is stable at this time because this Government has taken the difficult decisions to get to grips with Britain's debts. Abandoning that now, as some argue we should, would only risk British jobs and growth."
The pound strengthened against the US dollar following the update, breaking 1.64 dollars for the first time since the middle of last month.